Astier de Villatte revives the perfumes of ancient Egypt and Rome
Working with a historian and a perfumer, Astier de Villatte recreates the fragrances of ancient Egyptian temples, Roman royalty and Romantic French novelist George Sand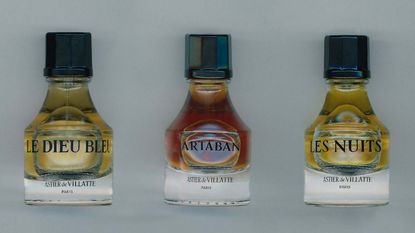 (Image credit: Astier de Villatte)
French company Astier de Villatte's new fragrances meticulously revive three historical scents. Le Dieu Bleu is a version of the incense known as kyphi, which was used in Ancient Egyptian rituals and healing; Artaban reinterprets the Ancient Roman 'royal perfume'; and Les Nuits draws on the perfume worn by French Romantic-era novelist George Sand.
Astier de Villatte
Astier de Villatte's founders, Ivan Pericoli and Benoît Astier de Villatte, established the brand in 1993 as a forum for rehabilitating objects forgotten by history and infusing them with a modern playfulness.
The company's output spans from stationery to textiles and luxury candles. Its signature range of elegant white ceramics is created according to the methods of 18th-century Parisian manufacturers and decorated with cheeky designs or shaped like Peanuts comic book characters, cowboy boots, or a pair of lips. Meanwhile, its printing press in the Parisian suburbs is one of the last in the world to use lead typesetting, and has published books by artist and singer Lou Doillon and the artist Balthus.
Now Astier de Villatte's latest fragrance series translates that same sensibility into scent. Perfume historian, anthropologist and researcher Annick Le Guérer provided perfumer Dominique Ropion with detailed documents describing the ingredients and their proportions for kyphi and the Roman royal perfume; she also supplied samples of George Sand's perfume from the bottom of a travel phial, entrusted by one of her descendants, Christiane Sand.
Ropion then worked with Astier de Villatte to recreate the three perfumes as faithfully as possible to the formulas of the time, while also following the regulations of today's perfumery.
The perfumes
Traditionally, Artaban was created in Ancient Rome using 24 herbs imported at great expense from across the empire. To reimagine it, Ropion blended bitter and sweet marjoram, a spicy and fruity cardamom, resinous nard, and herbaceous calamus. For Le Dieu Bleu, Ropion made a strangely intoxicating fragrance from honeyed broom, myrrh, green and fresh lentisk, and fruity opoponax. Finally, Les Nuits is an assertive, cologne-like fragrance made from Turkish rose, sensual patchouli, and powdery iris.
Each perfume comes with a book that has been printed at the Astier de Villatte press and tells the story behind the fragrance.
astierdevillatte.com (opens in new tab)
Mary Cleary is the Beauty & Grooming Editor of Wallpaper*. Having been with the brand since 2017, she became an editor in February 2020 with the launch of the brand's new beauty & grooming channel. Her work seeks to offer a new perspective on beauty, focusing on the pioneering personalities, product designs, and transformative trends within the industry.