Durazzi Milano, the equestrian-inspired womenswear label rooted in Italian craft
'Elegance and rigour' define Ilenia Durazzi's eponymous, equestrian-inspired label Durazzi Milano, which she was encouraged to begin by artist Maurizio Cattelan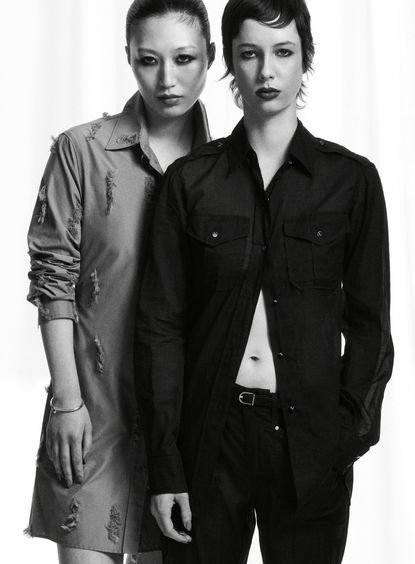 (Image credit: Photography by Grace Difford, fashion by Nicola Neri)
As seen in the March 2023 Style Issue of Wallpaper*, we meet six rising stars – including Durazzi Milano, featured here – tearing up the catwalks of the Milan fashion scene with a fresh energy and creative spirit.
Nestled away in the heart of the Brera district in Milan, Ilenia Durazzi is working on her latest collection. 'Rationalism is one of my favourite artistic and architectural periods and it's influenced my style the most,' she says of the 1936 building which houses her studio. On her walk to work, she passes 'a Franciscan 16th-century church which overlooks a Renaissance square with a fountain built by Giannino Castiglioni in 1927'. So taken is Durazzi with Milan's eclectic history and symbolic language, spoken through art, design, architecture and cinema, she even added the city to the name of her eponymous brand, Durazzi Milano.
Before starting her line, Durazzi had been working for 13 years in the fashion industry, with a decade spent in Paris, including roles as head designer for men's shoes and accessories at Balenciaga under the creative direction of Nicolas Ghesquière, and head designer for menswear at Maison Margiela. Today, she works concurrently as design director for the men's line at Tod's. 'Working for great maisons in Paris has developed my skills to follow a very strict schedule. Then, through experience, I've learned the art of prioritising... and I don't panic, ever,' she laughs.
A fan of Maurizio Cattelan, Durazzi met the artist through mutual friends. He encouraged her to start her own line, something she always knew she wanted to do. This has blossomed into an ongoing friendship. 'Knowing him personally gave me the privilege to take a closer look at the less obvious sides of his poetics,' she says. 'I believe that fashion is a form of art as it is an expression of human creativity. Even if it has a different purpose, fashion has a lot in common with visual arts: I mean, that power to display social needs and changes.' Indeed, influences span Oscar Niemeyer, Greek korai sculptures, artists Carol Rama and Roni Horn, composer Laurie Spiegel, photographer Birgit Jürgenssen and more.
Her menswear experience evidently influences her womenswear designs. 'Being obsessed with details, searching for a balance between a beautiful and practical outfit, leaning to a perfect wearability, choosing handcrafted materials and fabrics trace back from there,' she says of the considerations she carries over from other former to the latter. Tailoring is a particular strength. In fact, a lifelong fascination with horses (she is a keen and regular rider) and the equestrian world fuels her 'mix of elegance and rigour. This is the cornerstone of the style I want to convey with my creations.' You get the sense that every pleat and fold is thought out with the gravitas of an art historian, yet executed with lightness and Italian reverence.
Her experience working for top names in the fashion industry also indoctrinated her into a world of skilled craftsmanship and exacting production – standards she carries through to her own line. 'Focusing on raw materials and handwork is one of the pillars of my brand's identity. For each collection, my craftsmen and I make new pieces which have strong links with tradition, but also innovative details giving them a contemporary look,' she says. She considers fabrics as an artist would materiality: a knitted intarsia dress in the S/S 2023 collection has pearls inserted by hand. Other technical fabrics, such as raffia jacquard, blend traditional techniques with a modern point of view. All fabrics and leather are sourced from and manufactured in Italy.
'When you stay close to nature, time passes slowly,' she says in reference to her equine fascination. 'Trust and instinct play a key role whether riding in a forest or doing a project. I'm trying to tell a story in which hopefully lots of women would recognise themselves.'
Models: Katie Johnson at Models 1, Wilfried and Adeline at Xdirectn, Alexander Carey-Morgan at Tomorrow Is Another Day. Casting: Svea Casting Hair: Tosh at Streeters. Make-up: Jimmy Owen Jones at Julian Watson Agency using Dior Forever Foundation and Capture Totale Super Potent Serum. Manicure: Cherrie Snow Set design: Lizzy Gilbert. Photography assistants: Max Glatzhofer, Benedict Moore. Fashion assistant: Stoyan Chuchuranov. Set assistant: Aliou Janha Hair assistant: Leanne Millar.
A version of this story appears in the March 2023 Style Issue of Wallpaper* (opens in new tab), available now in print, on the Wallpaper* app on Apple iOS, and to subscribers of Apple News +. Subscribe to Wallpaper* today (opens in new tab)
Tilly is a British writer, editor and digital consultant based in New York, covering luxury fashion, jewellery, design, culture, art, travel, wellness and more. An alumna of Central Saint Martins, she is Contributing Editor for Wallpaper* and has interviewed a cross section of design legends including Sir David Adjaye, Samuel Ross, Pamela Shamshiri and Piet Oudolf for the magazine.
With contributions from