Copenhagen Fashion Week A/W 2023: everything you need to know
Scarlett Conlon reports from Copenhagen Fashion Week A/W 2023, which took place in the Danish capital last week – featuring shows from Ganni, Holzweiler, Wood Wood and more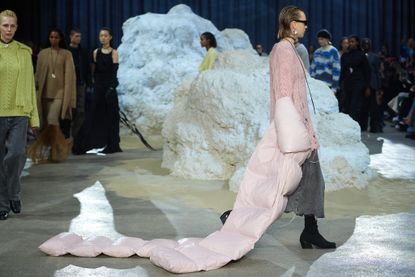 (Image credit: Photography by James Cochrane, courtesy of Copenhagen Fashion Week)
Leave it to Copenhagen Fashion Week A/W 2023 to bring the hygge to high fashion. Amidst sub-zero temperatures and sideways winds, the Danes welcomed guests to the 'City of Fairytales' to present its take on 2020s comfort in myriad forms. With inclusive casting and a sense of community as standard, Wood Wood, (Di)vision, and PLN stood out with collections that offered a subverted take on serotonin dressing; The Garment and Mark Kenly Domino Tan delivered art-gallery ease; Henrik Vibskov knocked it out of the park with a tribute to the apparently not-so-humble tomato; and Rotate and Opérasport kept the Y2K butterfly airborne. With each brand on the schedule asked to comply with 18 sustainable standards – including using at least 50 per cent certified, organic, upcycled or recycled textiles and having zero-waste set designs – by organisers, it was a feel-good, do-good season.
Here are the highlights of Copenhagen Fashion Week A/W 2023, as selected by Wallpaper*.
Copenhagen Fashion Week A/W 2023: the highlights
Wood Wood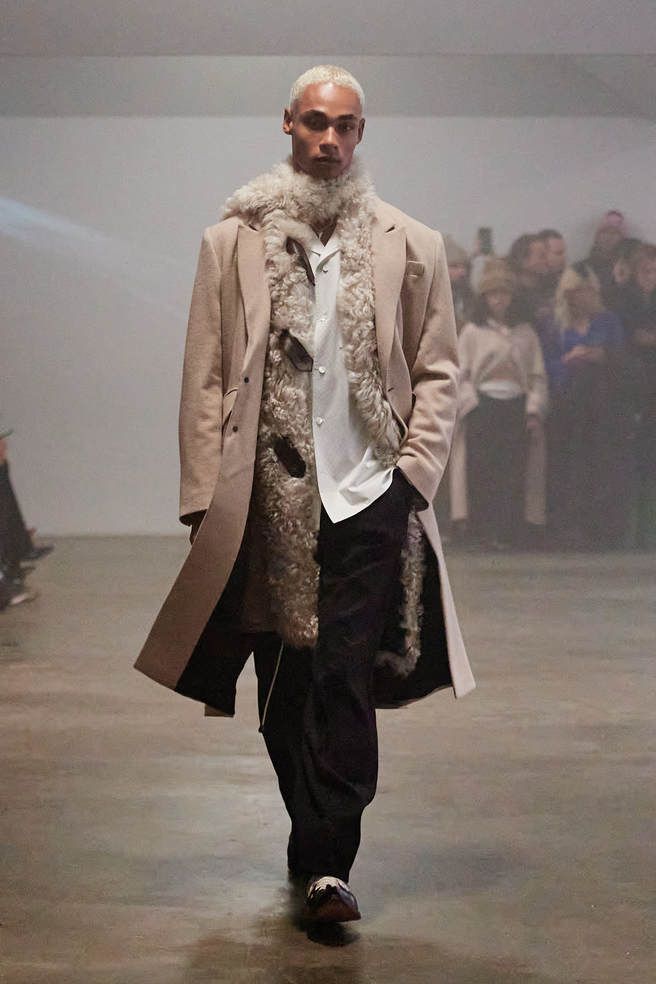 Subculture, youth culture, club culture – all were central to Wood Wood's super-tight offering this season, designer Dominic Huckbody said backstage post-show. 'We wanted to build on this idea of characters that you would see on a Copenhagen night out. I feel like each season we just get a little bit closer to fleshing [that idea] out.' Designed in collaboration with Cecilie Engberg and Liam Hodges, Wood Wood is going from strength to strength: the quality, the energy, the mood. less streetwear, more smart-wear subverted, leather donkey jackets were layered over crinkled satin dresses, brushed wool coats teamed with patent thigh-high boots, and embroidered shirting thrown on under slouchy suiting. 'Disco denim,' as Huckbody described it, played with 'how a denim jacket might look under the light of a club… a bit trippy,' while the prints of faces were actually the portraits of members of the Wood Wood studio shot by photographer Ellis Scott. Presented to the backdrop of the rising star and performance artist William Darby pulling rave shapes in a smoke-machine-filled box, it was a show that gave us a tantalising glimpse into what the Wood Wood club – nay, community – looks like, and it's one waiting in line for.
Holzweiler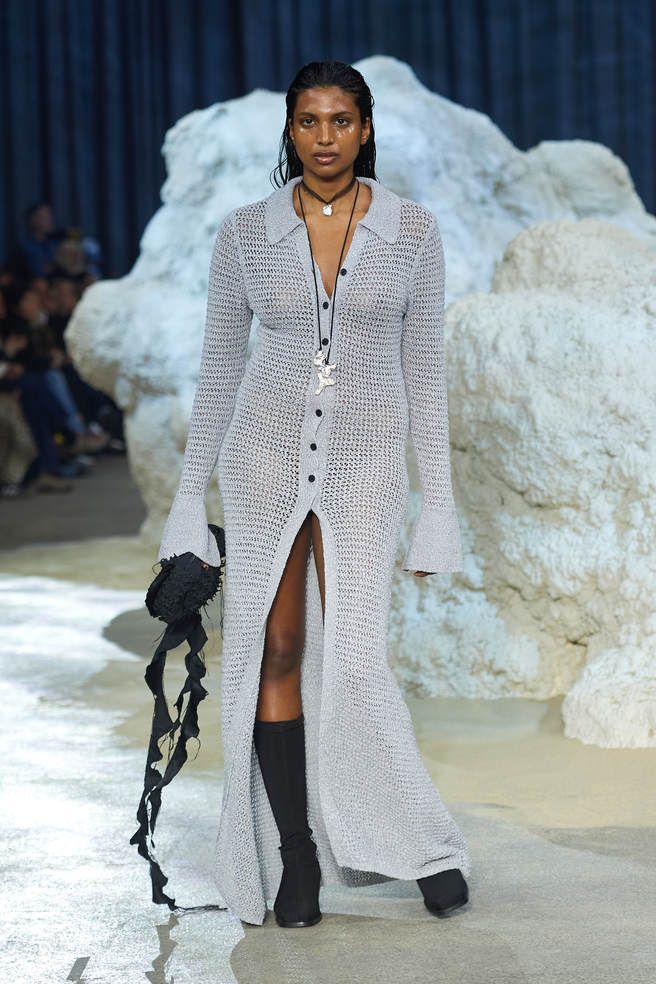 Keeping it in the family, siblings Susanne and Andreas Holzweiler, and Maria Skappel Holzweiler (wife of Andreas), aren't interested in showmanship for showmanship's sake. 'I think it's just important that we [keep] everything more subtle [so that] people see the full brand on the runway,' relayed Andreas post-show. True to his word, this was a collection of clothes rather than concepts. Stonewash denim (a constant in Copenhagen this season), crinkled suits, laddered knits, quilted coats, and grungy twinsets arrived with staple credentials, while asymmetric suiting featuring hammered silver fastenings that were a nod to ocean treasures. 'Maria loves to dive and has been fascinated by the deep seas,' said Susanne, hence the rough-cut pearlescent fastenings that made suiting pop.
Stine Goya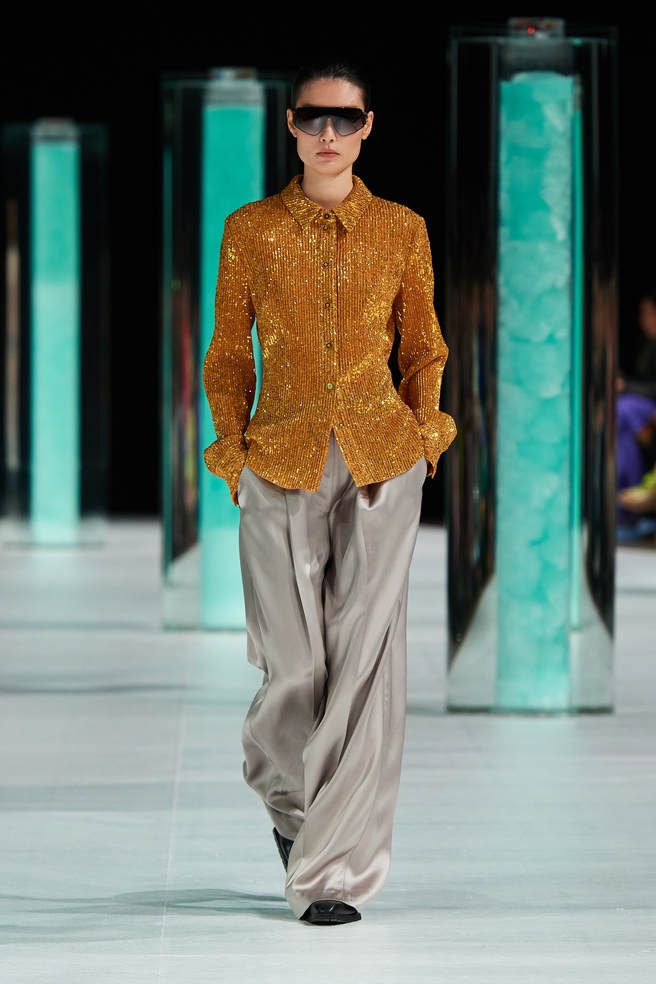 Nothing brings a classic Danish fairy tale into 2023 like placing it in the context of a five-star ski resort. Hans Christian Andersen's Snow Queen via Aspen was the starting point for Stine Goya this season. 'I was inspired by the story of this beautiful snow universe and ice-crystal landscape, the way that he was presenting his female characters in a very strong, brave and heroic way,' said Goya backstage, noting dual inspiration from women skiers shooting down the slopes. So, to the Jägermeister bar we went, where brocade and jacquard onesies, duvet wraps, diamanté tracksuits, and watercoloured floral puffer coats awaited. Goya's own snow queen made an appearance mid-show, bearing the icy fruits of a studio experiment that saw organza dipped in boiling hot vinegar and salted water before being applied to a mannequin, where it freezes immediately. This was followed by leather dresses and faux-fur coats with hardware to conjure snowflakes and icicles.
Ganni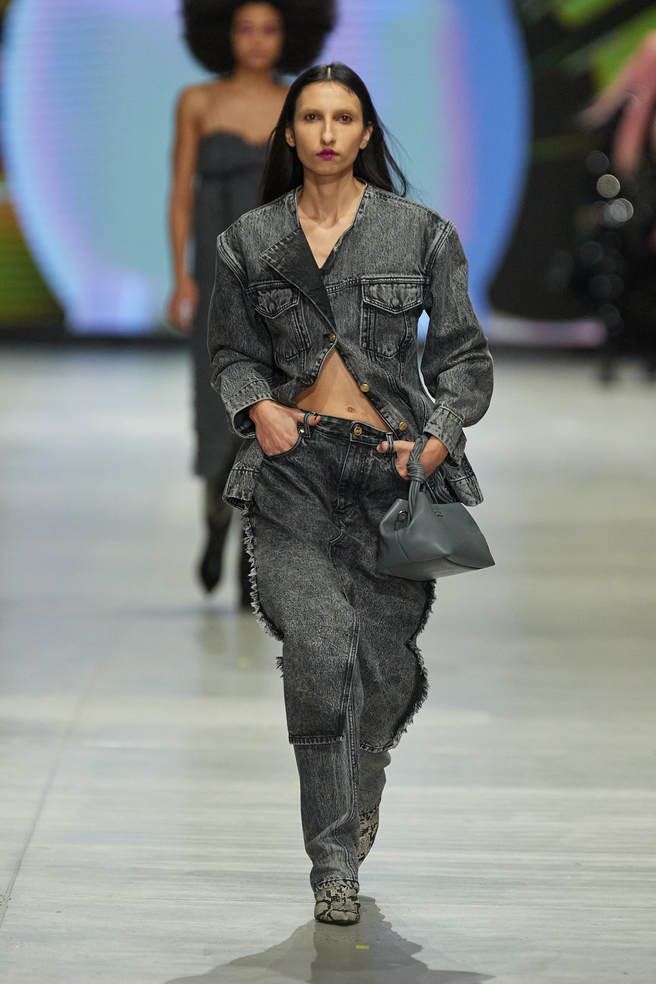 The Ganni girl may be renowned for her floral dresses and oversized embroidered collars, but this winter she's swapping her billowing silhouettes for cuts that have bite. Printed Prince of Wales tailoring featured inverted lace seams, black LBDs with fringed tassels swept the floor, and suits with a hint of 'the bar' were cinched with silver belts. Husband-and-wife design duo Nicolaj and Ditte Reffstrup have put their brand (and arguably Danish fashion) on the map with their take on nonchalant cool-girl separates that have that elusive high-low appeal. This season it manifested most keenly in metallic-coated denim jackets and jeans and glamourous Jessica Rabbit sequins that were countered with double-breasted wool-tweed coats (think Withnail if he made the trip from Camden to Copenhagen), grounded by a footwear collaboration with 66 North. Staging its show at the Arken Museum of Modern Art, the brand introduced a new butterfly logo into its repertoire, created in collaboration with Danish artist Esben Weile Kjær. He has also used the insect as the mascot of his new exhibition in the space.
(Di)vision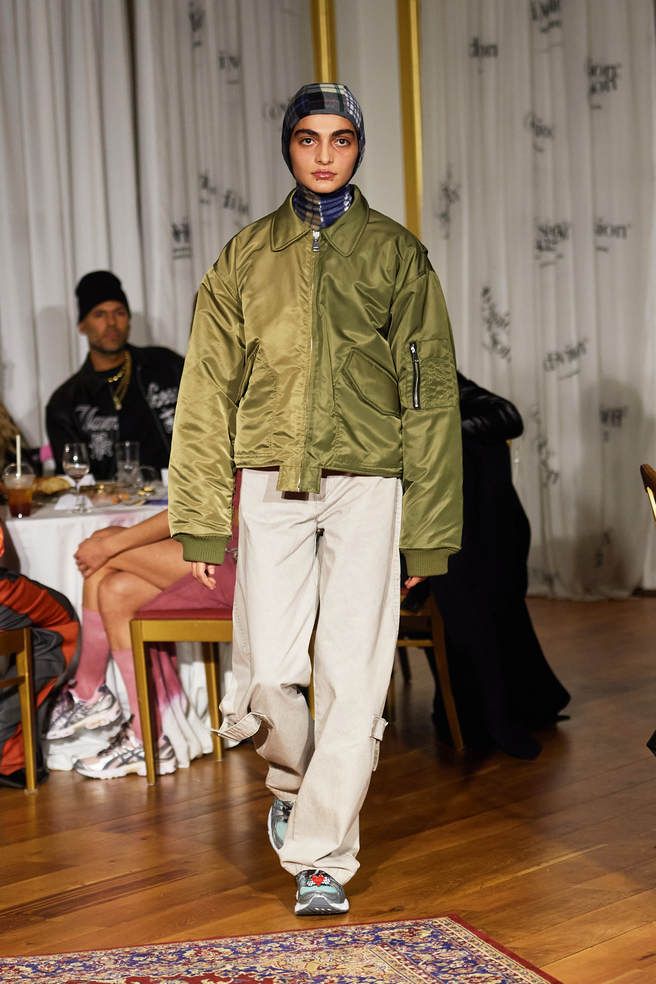 It was deadstock meets Woodstock 1999 at (Di)vision. From brother and sister duo Simon and Nanna Wick, who have built their brand on reworking vintage clothing and repurposing surplus materials, came a show that imagined what it would be like to be at the epicentre of the infamous New York festival. It also, Wick said backstage, wondered what it would be like for the same crowd to head to the high-brow Met Gala afterwards. 'We work with contrasts,' explained Simon post-show, 'and what's the most contrasting thing to Woodstock – it's the Met Gala, right? It's about as posh as it gets.' The same juxtaposition played out in the show itself which saw wine-drenched corsets worn with split bomber jackets, floor-length combat parkas and vintage leather jackets draping off underwear-clad models (all the designers' mates) that swaggered around the chandelier-adorned ballroom of the Josty Hotel (a jazz band played hits by Avril Lavigne, Limp Bizkit, and the Red Hot Chili Peppers to accompany). To close the show, model Sarah Dahl gave the duo a viral TikTok moment – as she stood to raise a toast and promptly stormed off, she took the tablecloth and its contents with her. 'We try to disrupt and create an experience for more than a show,' smiled Wick. 'When you come to our shows, we want it to stay in your body for more than a day.'
Henrik Vibskov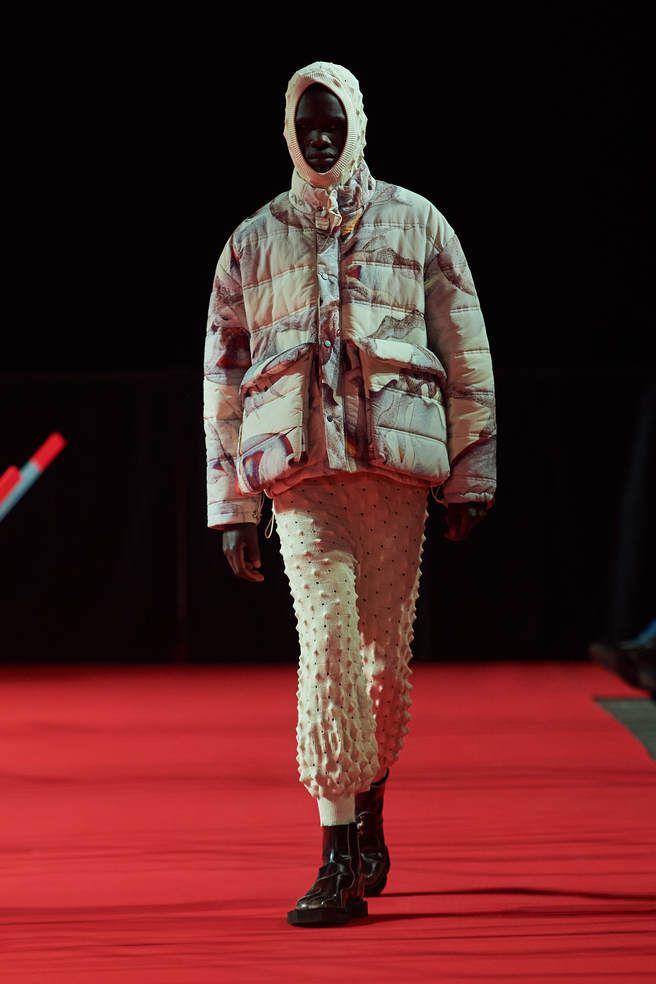 Copenhagen wasn't shy of 'moments' last week, but Henrik Vibskov might just have the edge on the others. Staged in a concert hall in the city's famous Freetown Christiania, the designer created a forest of breathable mechanical tomato trees and did something that a fashion show isn't synonymous with – he took his time. Based on his Paris exhibition of the same name, 'Long Fingers To Ma Toes', he wanted it to feel like an immersive exhibition on a catwalk, directing models to walk slowly around, reaching for the low-hanging fruit in his abstract Garden of Eden. It gave the audience time to digest the beautiful clothes in front of us, from the burnout suiting and checkerboard fleeces to intarsia knits and chef-inspired silhouettes that all in some way paid tribute to the cultural and political history of the tomato. Vibskov described it as the 'flourishing fruit of the night, exploding in the colours of the sun', and enjoyed tracing it from the ancient fruit of the gods to the Medici gardens and beyond. A graduate of Central Saint Martins for some 20 years, Vibskov shook off any glorifying of his diverse cast – he's been doing it since the millennium, he smiled – and is leading the way on the sustainability front. This season, 72 per cent of his garments were certified and sustainable, using recycled polyester and recycled PET bottles for padding in outerwear, Tencel made from cellulose fibres, and non-toxic dyes and prints (to name a few measures). Now that deserves a moment.

Mark Kenly Domino Tan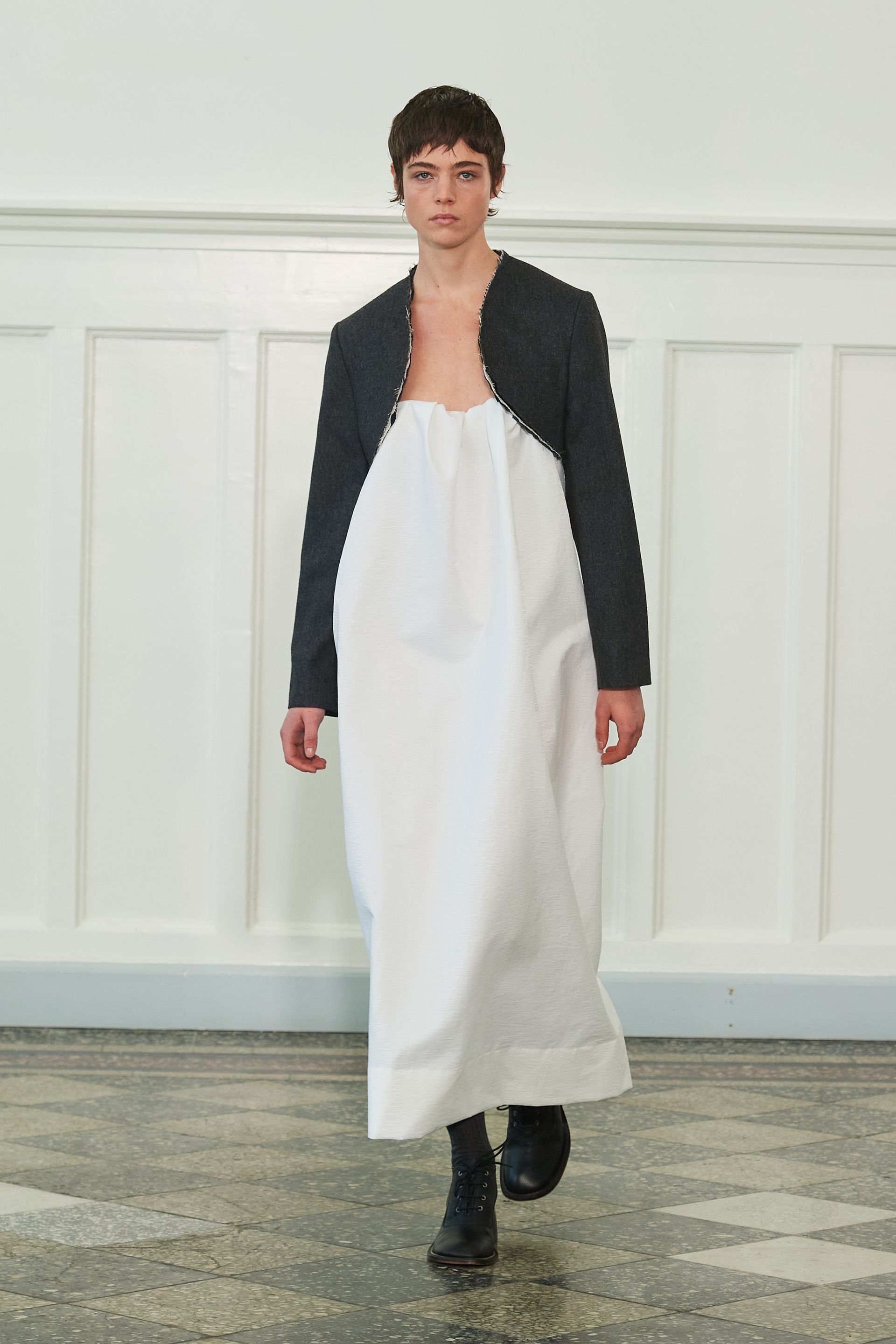 The first season under new creative director Caroline Engelgaar since the brand's eponymous founder stepped down last December, Mark Kenly Domino Tan retained the elegant art-gallerist credentials that have gained it a devoted clientele. Using crisp Japanese cotton, Engelgaar created 19 dresses that appeared to have walked off the pattern-cutting table, evoking the evolution from conception to creation, she told us. Elsewhere the atelier's touch could be seen in the tailoring, for which Engelgaar said the team had employed couture techniques. They were joined by the most luxurious outerwear crafted from heavy wool tweed, completing a masterclass in making the complex appear elegantly fuss-free.
The Garment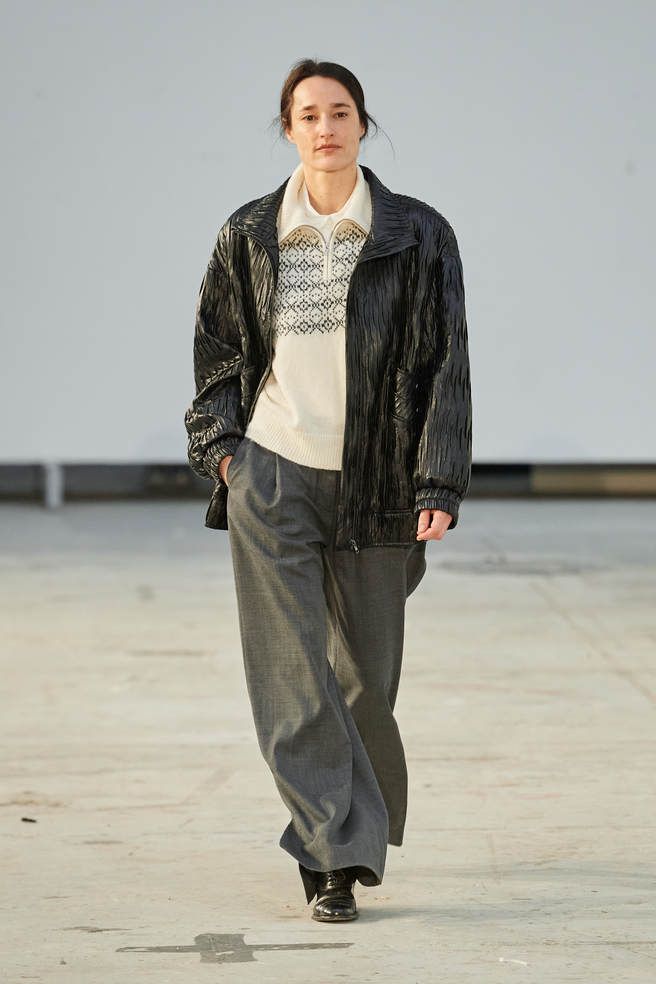 In a sea of subversion and souped-up-grunge, The Garment was Copenhagen's minimal-luxe go-to. Headed up by Sophia Roe and Charlotte Eskildsen, the brand continued its evolution of seasonless garments that promise to hold their credentials in a closet. 'Being in fashion is not sustainable, the only thing that really matters is that people buy less,' said Eskildsen post-show. '[That's why] it's important to be seasonless – that doesn't have to be basic, but things that you really cherish and keep on wearing and restyling.' A major string to the brand's bow in this pursuit is its amalgamation of traditionally gendered codes, something which she says is a Scandi thing. 'We always try to mix masculine and feminine, it's no big deal. It's nice to not look overdressed.' It manifested here in an iced-lemon blazer suit, a knitted slip dress, an origami-like trench coat, and the perfect wide-leg box-pleated trousers. Another string is the duo's commitment to fun, as well as function: crocheted appliqué lent a whimsical twist to skirts and playsuits, as did their frilled flapper-esque mini dresses. In a nutshell, these are investment pieces that raise the game of the basics you already own.
Rotate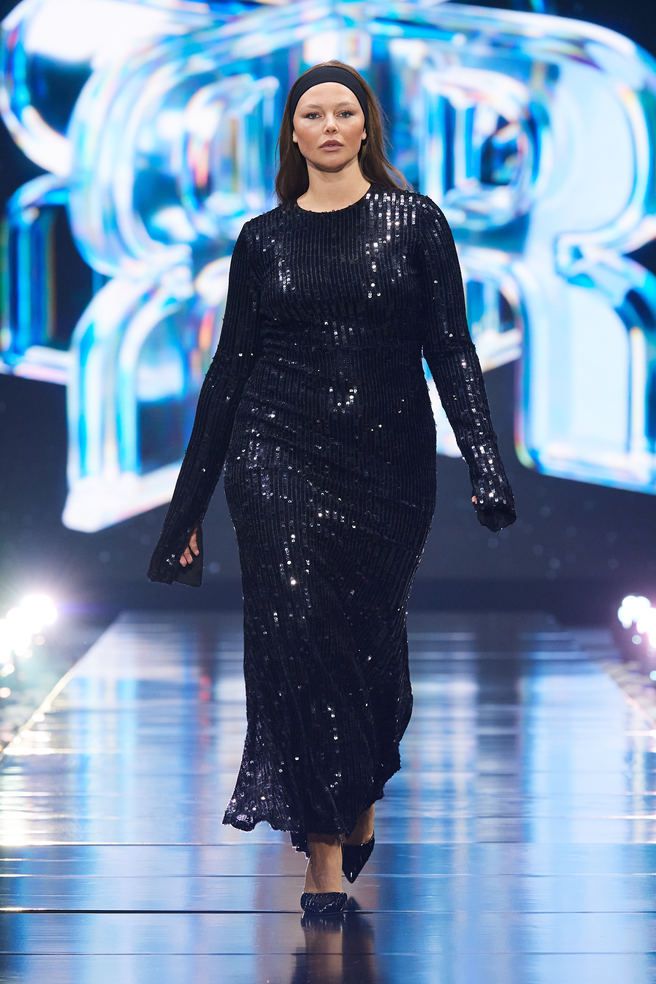 Who better a brand ambassador to represent 'high-voltage glamour with a twist' than Real Housewives phenomenon Lisa Rinna? The cult American figure made her runway debut at Rotate on Thursday night at a show that was an unapologetic celebration of body confidence, fun, and women having it all. Joining her on the runway was Grece Ghanem, the breakout microbiologist-turned-fashion influencer, who has become a pin-up of ageless fashion and led the street-style headlines in the Danish capital this week. The brand itself is headed up by influencers and stylists Jeanette Madsen and Thora Valdimarsdottir, putting them in the perfect position to tap into the Insta-crowd aesthetic. Their collection this season was 'a dedication to the freedom of style seen in late 1980s glam-rock culture', something that sets them apart from their contemporaries on the schedule and delivered the most high-wattage catwalk of the week. 'For us, it's always been so important [to celebrate women's bodies],' the pair said backstage. 'Some women want to cover their shoulders, some want to cover their arms or their tummies, and some want to show [it all off]. So, our goal is to please every woman and that is body diversity.'
Baum und Pferdgarten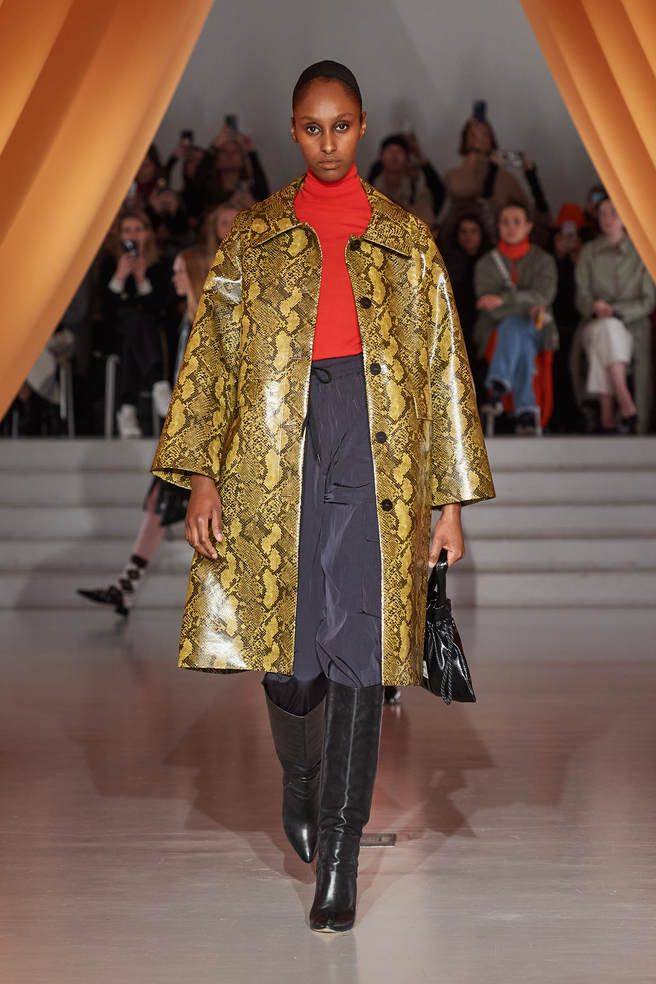 Baum und Pferdgarten looked to Wes Anderson's moody introvert Margot Tenenbaum for inspiration this season. 'She's an icon but she's so mysterious – since she wears the same clothes throughout the movie, we reflected on how she would look in 2023,' said creative directors Rikke Baumgarten and Helle Hestehave backstage. By their own admission, this is not a brand famed for being low-key, but rather a reliable source of clothes for fun. This season it played out with patent duster coats, beaded transparent skirts and leopard-print corsets. Margot herself appeared as a print on crisp shirting, while a nod to her brother Richie popped up with tennis-ball intarsia, headbands and velour tracksuits.
Opérasport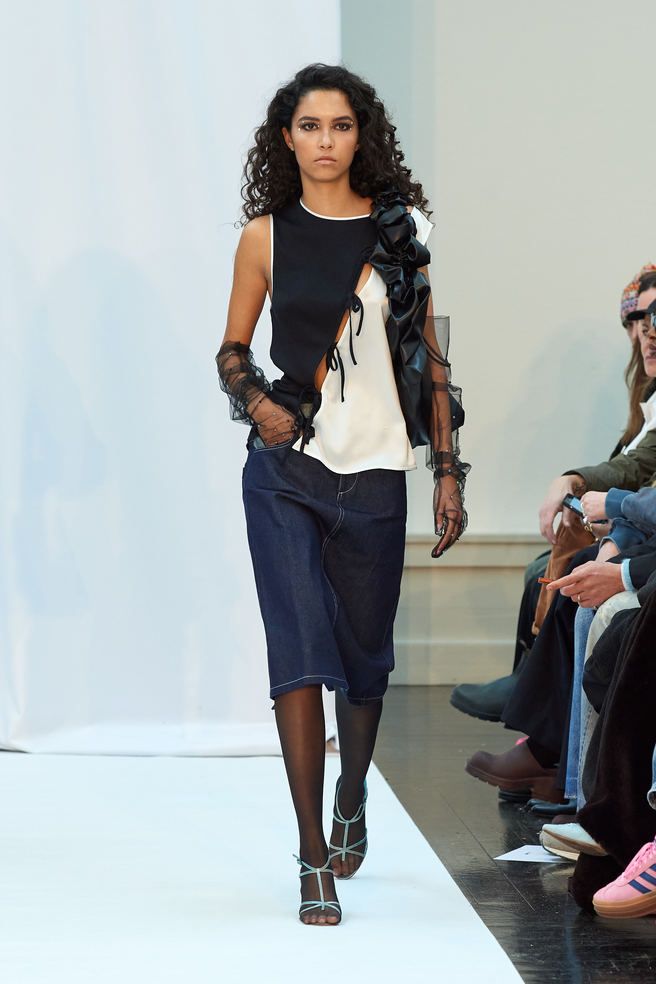 Inspired by the artwork of British artist Tom Anholt, Opérasport creative directors Stephanie Gundelach and Awa Malina Stelter delivered an arthouse take on Y2K chic. Anholt's prints played out on shell-suit jackets and PJ sets that lent a dreamlike dimension to an otherwise noughties-devoted collection. Ribbed jersey dresses, catsuits, and spliced 'going-out tops' were teamed with wide-leg indigo jeans complete with diamanté embellishment. Meanwhile, the brand's famous recycled scrunchie track pants were joined by a long-length bomber and pencil skirt in the same material. Fabric is key here, said Stelter backstage. 'We were actually so proud that we met all the [Copenhagen fashion council's] requirements from the beginning, because we have always worked with sustainability. We didn't have to change any fabrics or anything, because all our fabrics are either recycled or organic. Eighty per cent of the production is recycled.'
PLN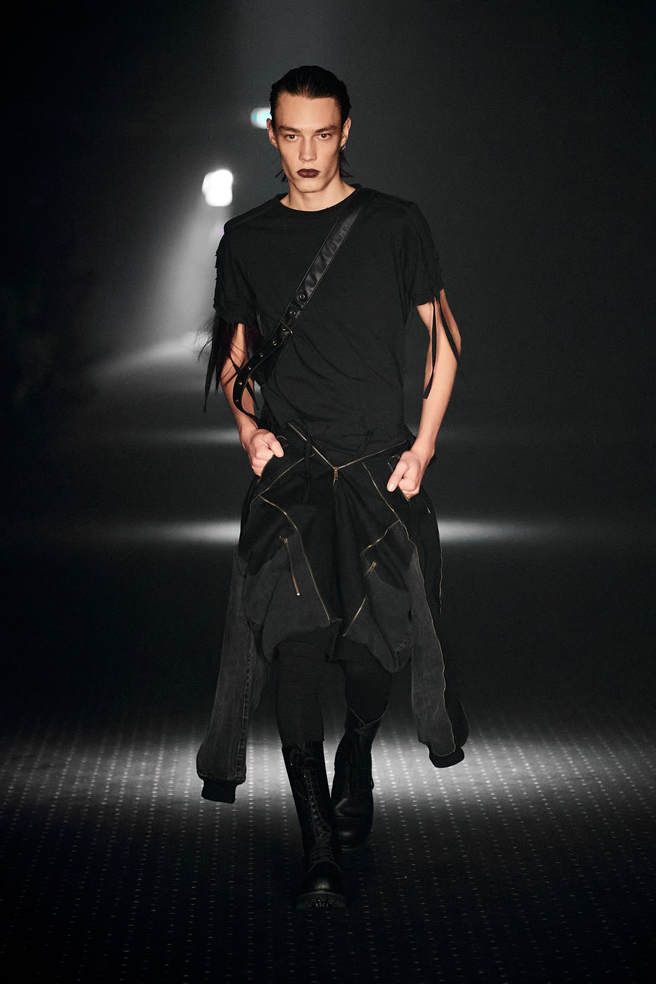 'There's a lot of emotion,' said a jubilant Peter Lundvald Nielsen backstage. 'I'm very happy because we're a very young brand and this has been a long process for us and we knew that starting up the production was going to be difficult financially.' The investment has certainly paid off. Lauded by magazines and stylists alike, this is a brand that has established a strong identity despite its young age. This season it took on the sprawling CIFF event venue and presented 'a crash between something that for some people is a very masculine universe, but up against something that is also very feminine', explained Nielsen. Zipped hoodies, waxed trench coats, frayed denim and corsetry – all handmade by Nielsen and his team – came sculpted and stretched across a diverse cast in an all-black palette, bordering more on couture than a contemporary collection.