'A quest for beauty': Alaïa's Pieter Mulier on his costumes for Paris Opera Ballet
Continuing Alaïa's longtime link with the arts, Pieter Mulier tells the story behind his sensual costumes for Bobbi Jene Smith and Or Schraiber's first Opéra de Paris ballet, 'Pit'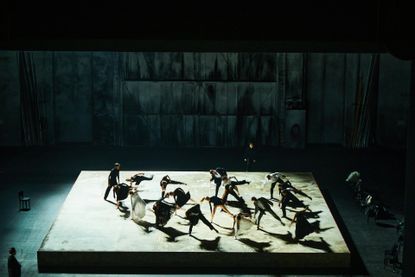 (Image credit: Courtesy of Alaïa)
'I want to create clothes that carry this idea of a modern beauty, always in movement,' Alaïa creative director Pieter Mulier told Wallpaper* last year, speaking on his vision for the Parisian maison a year into his tenure (the Belgian designer began his role in 2021, the first named designer after the death of founder and couturier Azzedine Alaïa in 2017).
Movement, the body, a pursuit of beauty – preoccupations of both Mulier and Azzedine Alaïa in his lifetime – are united in a new collaboration between the house and Paris Opera Ballet on the occasion of Bobbi Jene Smith and Or Schraiber's first work for the company, titled 'Pit'.
Trained at the Batsheva Dance Company under Ohad Naharin, United States-born Smith – who has created works for Martha Graham Dance Company and the Royal Danish Ballet, among others – and Israel-born Schraiber – a director, choreographer and actor – call 'Pit' a 'sensual, tribal and dramatic universe'. Played out on a stark, 'figurative' show set, it is set to a score which 'intertwines' Jean Sibelius' 1904 'Violin Concerto' with compositions by contemporary musician Celeste Oram.
Opéra de Paris x Alaïa
'We share a similar obsession with the body. It is the core of our creation,' says Mulier of the roots of the project. 'All our gestures are devoted to it, that's what they told me when they approached me in the first place. Our connection takes place in the body.'
Mulier – who began his career at Antwerp-based Raf Simons, before following the eponymous designer to Dior and Calvin Klein – is a longtime follower of ballet and dance, having first seen 'Rain' by Anne Teresa de Keersmaeker at Brussels' La Monnaie over 20 years ago in 2001 (coincidentally, costumes for that performance were created by fellow Belgian designer Dries Van Noten). 'It was such a shock, a revelation,' says Mulier of the contemporary work, which provides a response to Steve Reich's minimal composition 'Music for 18 Musicians'.
'But my favourite [ballet] remains "Le Boléro de Ravel" choreographed by Maurice Béjart and starring Sylvie Guillem,' he continues. 'The ballet is like a show. When you create clothes, you always think of the movements of the woman's body. Her ability to move around in your clothes. They must become a source of freedom – veridical freedom. For ballet, it's the same idea, but for extreme movements.'
As such, the black-and-white costumes trace the sinuous line of the dancers' bodies; notably, a series of gowns which hug the torso like a bodice before falling away into diaphanous flared skirts. Mulier calls the effect that of 'supple armour', an attempt to 'enhance, exalt and celebrate... the curves of the bodies, their shapes and their silhouettes'. The various pieces were custom-made to fit the 12 male and 9 female dancers, a demonstration of 'the skills and savoir-faire of the Alaïa atelier'.
'When I choose the materials, and when I design the cut, I always have fluidity in mind,' he says, noting a particular fondness for the pieces he created for the men in the company. 'The fluidity of fabrics becomes the fluidity of movements.'
In his lifetime, Azzedine Alaïa created a number of costumes for ballet and opera including 'Les Nuits' (2013) and 'La Fresque' (2016) by French dancer and choreographer Angelin Preljocaj, a close collaborator. 'More than a collaboration, the connection is always beauty. Alaïa's ongoing and timeless quest for beauty,' says Mulier of the house's historic links with the arts. 'That's what makes [it] so special. It's at the source of its bond with art, music, design and now ballet.'
'Azzedine used to create the costumes for Angelin. Now I do it for Bobbi and Or. It's the same movement, the same quest. Beauty.'
'Pit' had its first run from March 17-March 30, 2022 at Paris' Palais Garnier
Jack Moss is the Fashion Features Editor at Wallpaper*. Having previously held roles at 10, 10 Men and AnOther magazines, he joined the team in 2022. His work has a particular focus on the moments where fashion and style intersect with other creative disciplines – among them art and design – as well as championing a new generation of international talent and profiling the industry's leading figures and brands.