Let's roll: make sushi with this surprisingly simple recipe
Start enjoying a (slightly) lighter lockdown with our Flowers Sushi recipe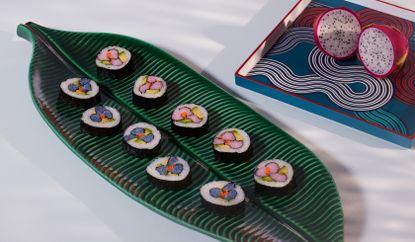 (Image credit: Metz + Racine)
Flowers Sushi
Ingredients
2 cups short-grain white rice
2 tbs Japanese rice vinegar
2 tbs mirin
1 tsp sugar
1⁄2 tsp salt
natural pink and blue food colouring
7-10 nori seaweed sheets
1 large carrot, peeled and julienned into long thin strips
1 large avocado, peeled and sliced lengthways into strips
Method
Put the rice into a lidded cooking pot and cover with cold water. Swirl and stir with your fingers, then slowly drain off the water. Do this repeatedly until the water runs clear.
Pour away all the excess rinsing water. Add 2 1⁄2 cups water and leave the rice to soak for 30 minutes.

Place the pot over a medium to high heat, bring to the boil, then turn the heat down to a simmer. Put the lid on the pot and cook for 15 minutes.

Turn off the heat, leaving the lid on to allow the rice to steam for another 15 minutes.

Put the rice vinegar, mirin, sugar and salt into a small pan and place over a medium heat. Bring slowly to a boil, stirring, until the sugar and salt have dissolved. Remove from the heat.

Divide the rice evenly between three bowls. Divide the sushi vinegar between three bowls and add pink and blue food colouring to two of them. Pour the pink vinegar over one of the bowls of still warm rice and mix gently until evenly combined. Repeat with the blue and the plain vinegars.

Take three sheets of nori and cut each with scissors, lengthways, into four strips. Take one strip and, with lightly dampened hands, place blue rice along the middle and then roll it up carefully, so the rice is enclosed in nori. Repeat with the rest of the blue and the pink, so you are left with six slim 'petal' rolls of each colour.

Take a whole nori sheet and place it on a sushi rolling mat. With lightly dampened hands, spread a thin layer of the plain rice over the nori, leaving a 2cm gap across the long edges, top and bottom. Place a blue petal roll across the centre of the plain rice. Place avocado on either side, and carrot along the top of the blue petal roll. Place two more blue petals on either side of the carrot strips and carefully roll the whole thing up as tightly as possible.

Repeat with the other blue ower roll, and the pink rolls. Slice the rolls into sushi pieces of about a thumb's width.
INFORMATION
Recipe by Melina Keays, Entertaining Director
Melina Keays is the entertaining director of Wallpaper*. She has been part of the brand since the magazine's launch in 1996, and is responsible for entertaining content across the print and digital platforms, and for Wallpaper's creative agency Bespoke. A native Londoner, Melina takes inspiration from the whole spectrum of art and design – including film, literature, and fashion. Her work for the brand involves curating content, writing, and creative direction – conceiving luxury interior landscapes with a focus on food, drinks, and entertaining in all its forms
With contributions from