Lee Broom reimagines Rémy Martin XO cognac decanter
Discover Rémy Martin XO on ice – an exceptional sensory experience showcased by the launch of the XO decanter reinterpreted by Lee Broom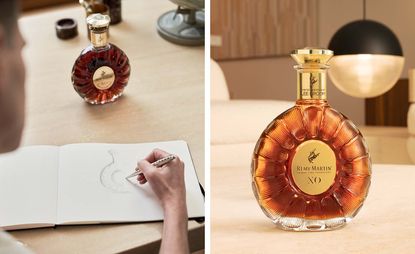 (Image credit: Andreea Antohi)
For the first time since its creation, the iconic Rémy Martin XO cognac decanter has been reinterpreted – by British designer Lee Broom, whose work spans luxury furniture and lighting design.
With a background in fashion, Broom skilfully blends classicism and modernity, combining an understanding of fine craftsmanship with cutting-edge technology, and bringing his distinctive flair and an unexpected touch of the avant-garde.
Excellence and innovation in arts and culture is a core motivation for Rémy Martin. Global executive director Amaury Vinclet describes the collaboration with Broom as 'an extraordinary creative adventure' and for the designer there was a natural synergy with the brand. 'There was an immediate connection,' he explains. 'I am about seamless perfection, uniqueness, heritage and craft, and those themes are very prevalent at Rémy Martin, a house that's so steeped in history and heritage yet always moving forward, still modern and contemporary.
'It's an honour to work on such a unique and iconic decanter and put my own twist on it.' The collaboration marks a moment when a new generation of cognac connoisseurs are drinking this classic spirit. It has always been enjoyed neat, and mixed into cocktails, and the trend now is to appreciate the deep aromatic flavours of XO on ice. Rémy Martin XO is the signature cognac of its cellar master – an expert blend of up to 400 different eaux-de-vie, and the XO decanter has been a reassuringly splendid presence in the drinks cabinet since 1981.
Broom has paid tribute to the original – retaining its tactile, multi-faceted, medallion-like form, whilst embellishing it with exactly 400 fine 'starburst' cuts carved into the indents of its solar shape. Each cut represents one of the eaux-de-vie within the blend. Broom's work is noted for its use of light and reflection, and the deep amber hue of the cognac glows through the reimagined decanter.
The glinting angles of the glass as it catches the light suggest shards of ice, and also the fantastic array of aromas that are revealed in the cognac by the addition of a single ice cube. 'I wanted to convey the opulence of Rémy Martin XO, but also the experience of serving it on ice, which is a beautiful way to taste cognac. The cuts convey a sense of icicles as well as radiance around the circumference of the bottle. They bring a sense of coldness,' says Broom.
To celebrate the launch of the Lee Broom limited-edition XO decanter, which will be available at Selfridges from the end May, the cognac brand is offering cognac connoisseurs an opportunity to take a sensory journey through taste and fragrance – inviting visitors to enter the 'Rémy Martin XO on ice universe' via a fully immersive 3D-rendered mobile experience. Here they will discover the designer's inspirations and processes, and a personalised tasting guide to fully savour the blend's riches.
INFORMATION
remymartin.com (opens in new tab)
Melina Keays is the entertaining director of Wallpaper*. She has been part of the brand since the magazine's launch in 1996, and is responsible for entertaining content across the print and digital platforms, and for Wallpaper's creative agency Bespoke. A native Londoner, Melina takes inspiration from the whole spectrum of art and design – including film, literature, and fashion. Her work for the brand involves curating content, writing, and creative direction – conceiving luxury interior landscapes with a focus on food, drinks, and entertaining in all its forms