It's playback time for Jameson Irish whiskey
Jameson 15 Year Old Single Pot Still will go on sale in a limited ballot on Friday 8th April, as part of The Jameson Anthology from Midleton Distillery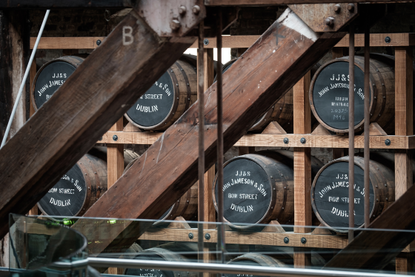 (Image credit: TBC)
The Irish whiskey makers at Midleton Distillery have been going through their impressive back catalogue of discontinued whiskies to unearth treasures that merit a re-play. They have used this wealth of historical material to create The Jameson Anthology (opens in new tab) – a skillfully curated, limited-edition collection, which draws inspiration from Jameson whiskey's rich heritage as well as embracing the possibilities of the modern whiskey world (read our edit of the best whiskies (opens in new tab) to see the competition).
The Anthology is to be released in two volumes: The first, named Jameson Remastered, celebrates classic whiskeys that are no longer in production, and rather than simply reproducing these already outstanding spirits, the distillery has chosen to re-invent and enhance them using contemporary whiskey-making techniques. The remastered expressions deliver an exciting new taste experience that takes whiskey drinkers on a journey from past to present.
The first release from Jameson Remastered is the Jameson 15 Year Old Single Pot Still; a much loved classic that was last produced in 2000, and has been reinterpreted under the expert direction of Master Distiller Kevin O'Gorman – It is the first Jameson single pot still whiskey to be unveiled in decades. This award-winning liquid is composed of three exceptional whiskey styles, spanning 15-to-17 years of maturation in carefully selected American bourbon and Oloroso sherry casks. The unmistakable Jameson DNA is clear and present, with the original distilling methods and heritage of the Dublin Bow Street distillery still at play, but now in smooth combination with modern-day methods and technology.
RELATED STORY
As O'Gorman explains; 'We seized the opportunity to combine the traditional single pot still style with the strong influence of the sherry casks, which was integral to historic whiskey production. We're confident to have developed a contemporary iteration of Jameson 15 Year Old that pays tribute to the torch bearers who put Irish whiskey on the map, whilst nodding to the current generation of talented craftspeople at Midleton Distillery. We can't wait for Jameson fans to sip, savour and enjoy it to the very last drop.'
In case you were wondering; 'single pot whiskey' is similar to single malt in that it comes from a single distillery and is made with barley. The difference is that single malts are made from 100% malted barley (where the grains have been germinated), whereas the single pot still whiskey style is defined by the inclusion of unmalted (raw) barley in the mash.
Jameson 15 Year Old Single Pot Still is resplendent with traditional pot still flavours; rich and spicy, with silky layers of fudge and vanilla, soft fruity notes, and a hint of oak and dried herbs on the nose. Balanced and complex – it is a whiskey that pays homage to Ireland's history, heritage and craftsmanship – staying true to the original spirit that inspired it, whilst marching on in tune with the modern whiskey world.
Those who appreciate Irish whiskey have more to look forward to as The Jameson Anthology unfolds; Volume two, named Jameson Remixed, will offer further exploration of the distillery's extraordinary historical legacy, and more delicious expressions of the iconic Irish spirit.
INFORMATION
Jameson 15 Year Old Single Pot Still retails at €300, with a limited quantity of 2,220 bottles available through two online ballots. The ballot (opens in new tab) is open from 2pm (IST) on Friday the 8th of April. Applicants will have until 1pm (IST) on Monday the 11th of April to enter the ballot, with shipping to successful applicants taking place from late April.
Melina Keays is the entertaining director of Wallpaper*. She has been part of the brand since the magazine's launch in 1996, and is responsible for entertaining content across the print and digital platforms, and for Wallpaper's creative agency Bespoke. A native Londoner, Melina takes inspiration from the whole spectrum of art and design – including film, literature, and fashion. Her work for the brand involves curating content, writing, and creative direction – conceiving luxury interior landscapes with a focus on food, drinks, and entertaining in all its forms