Elevate brunch with Egg Flowers in Toast
Explore this culinary flight of fancy for discerning young diners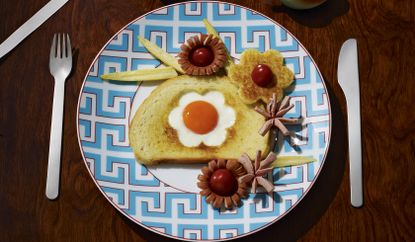 (Image credit: Stephen Lenthall)
Straight from our October 2015 edition of Smallpaper*, we've picked out this fun-sized recipe that offers a unique way to elevate everyone's favourite breakfast ingredient, the humble egg.
Egg Flowers in Toast
Ingredients
1 thick slice of bread
Butter, at room temperature
1 egg
2 frankfurter sausages
Baby tomatoes and baby corn, to serve

Method
Butter the bread generously on both sides. Press out a cavity in the centre of the slice using an 8cm flower-shaped biscuit cutter. Reserve the bread flower.

Break the egg into a small bowl.

Heat a non-stick pan over a medium fame and place the bread and the cut-out flower in the pan. Cook for a couple of minutes until golden, then flip over.

Tip the egg into the cavity. Press lightly at the edges of the flower, until the white begins to set, to prevent the white from spreading outside the toast. Cook until the egg is just set.

To make the frankfurter flowers, bring a small pan of water to a simmer. Slice one sausage lengthways, and make a series of cuts halfway across the width, about 1/2 cm apart, on the whole length of each half-sausage.

Cut the other sausage into 3cm lengths and this time make vertical cuts, halfway down the length of each piece, to form the 'flower petals'.

Place the sausage pieces in the simmering water for 2 minutes until they have curled into flowers.

Assemble the plate, surrounding the egg toast and cut-out flower toast with sausage flowers using halved tomatoes at their centres, and baby corn as leaves.
INFORMATION
Recipe by Melina Keays, Entertaining Director
Melina Keays is the entertaining director of Wallpaper*. She has been part of the brand since the magazine's launch in 1996, and is responsible for entertaining content across the print and digital platforms, and for Wallpaper's creative agency Bespoke. A native Londoner, Melina takes inspiration from the whole spectrum of art and design – including film, literature, and fashion. Her work for the brand involves curating content, writing, and creative direction – conceiving luxury interior landscapes with a focus on food, drinks, and entertaining in all its forms
With contributions from