A new experience from Bentley Motors offers the most luxurious road trip ever
Bentley Motors 'Extraordinary Journeys' is new travel series that allows you explore a spectacular landscape in the world's finest car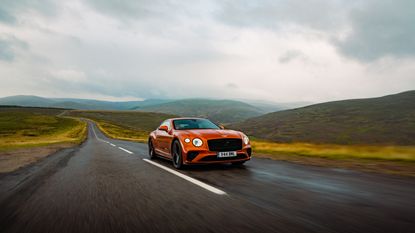 (Image credit: Bentley )
Wallpaper* Newsletter
Receive our daily digest of inspiration, escapism and design stories from around the world direct to your inbox
Thank you for signing up to Wallpaper. You will receive a verification email shortly.
There was a problem. Please refresh the page and try again.
Take the road trip of a lifetime at the wheel of one of the world's most sought after luxury cars. Bentley Motors has unveiled a global calendar of 'Extraordinary Journeys' - a speciality travel series that gives exclusive access to the finest design, architecture, and hospitality in a variety of inspirational locations. These include the UK, New Mexico and Scandinavia, with more destinations to be announced.
The Bentley trips focus on small groups who have the opportunity to drive a range of Bentley cars for the first time, or for existing customers to drive new models. During three to five days of epic motoring across spectacular landscapes, the drivers make their selection from the company's five model lines: The Continental GT, Continental GT Convertible, FlyingSpur, Bentayga and Bentayga EWB, with the chance to try a different model on each leg of the journey.
The cars travel in convoy, with a lead car, which rather like the safety car in motorsport, is there to lead the way, set the pace, and ensure there are no obstructions (though you will be travelling at a more relaxing speed on this journey than on a racetrack).

There is no need to worry about losing sight of the lead driver as each car is equipped with a pre-programmed satellite navigation system and you can always see exactly where you are and where you are heading. Thoughtfully, Bentley have curated an excellent playlist to enhance the drive through their state of the art sound system. A full team of technicians follows the convoy in a van in case of any mishap or mechanical issue and for good measure, the whole convoy is in radio contact, through which fascinating facts about the surrounding regions are conveyed.
Anything that could be stressful about a road trip has been removed from the experience so there is no distraction from the pleasure of the drive. Logistical details such as navigation, luggage, accommodation, and sustenance are all seamlessly taken care of by the Bentley events team; your bags travel separately and simply appear in your room when you arrive; the cars are cleaned every night and are lined up, spotless, gleaming, and ready to drive off in the morning. For posterity, your trip is professionally documented by photographers capturing stills and film, and they are equipped with drones to achieve magnificent sweeping shots of the event.
The behind the scenes work of the Bentley team enables you to focus solely on the enjoyment of driving an opulent supercar through stunning scenery. Settle into its lush interior for a journey that takes you to fantastic places, with luxurious accommodation, and cuisine served by world renowned chefs. Each evening the group dines together in a beautiful and sometimes unexpected setting; comparing notes as the adventure unfolds and relaxing while you share exquisite food and wine, adds another, enriching layer to the experience.
Caren Jochner, Global Head of Brand Experience at Bentley Motors, said, 'We want to share with our customers and fans an extraordinary journey of discovery offering access to usually private and exclusive experiences that only Bentley can provide. We have worked closely with globally like-minded partners that share our passion for excellence whether it be in the field of cuisine, design, architecture, or wellness – all with sustainability at heart. This, coupled with our carefully curated driving experiences, provides something truly unique – an extraordinary journey and once in a lifetime experience that offers the opportunity to connect you with like-minded souls – an experience money alone can't buy.'
To give a flavour of what lies in store for the Bentley traveller: the Scandinavian journey encompasses 650 km between Sweden and Denmark. It begins with a delicious dinner and an overnight stay at Ett Hem Hotel in Stockholm - an elegant Arts and Crafts townhouse with the warm feel of a private home. The adventure continues with a glorious drive into verdant countryside, and a night spent at Trakt Forest Hotel, nestled deep in Swedish woodland. Exceptional Nordic cuisine, cooked over wood by celebrated chef Niklas Ekstedt, is served under a canopy of trees. The continuing drive towards Copenhagen takes in the wonderful Wanås Sculpture Park before heading for the glamorous Nimb Hotel, and also an exclusive tour of BIG studios, one of the world's greatest architectural practices.
This journey includes the famous Øresund Bridge between Sweden and Denmark, whose 16 km span consists of both a bridge and a long tunnel. Crossing this is an experience in itself - when you factor in a Bentley, it is unforgettable.
Receive our daily digest of inspiration, escapism and design stories from around the world direct to your inbox
Melina Keays is the entertaining director of Wallpaper*. She has been part of the brand since the magazine's launch in 1996, and is responsible for entertaining content across the print and digital platforms, and for Wallpaper's creative agency Bespoke. A native Londoner, Melina takes inspiration from the whole spectrum of art and design – including film, literature, and fashion. Her work for the brand involves curating content, writing, and creative direction – conceiving luxury interior landscapes with a focus on food, drinks, and entertaining in all its forms