Yoshiyuki Kato exhibition at Analogue Life, Japan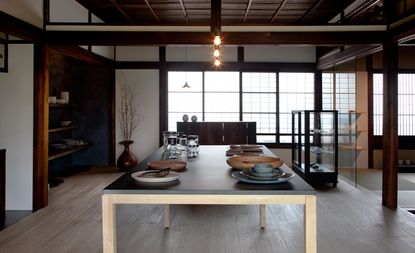 (Image credit: TBC)
Handmade Japanese craft has always fascinated us, so we where thrilled to learn of an exhibition of Yoshiyuki Kato's woodworks at Nagoya's retail temple to contemporary craft, Analogue Life (opens in new tab). Unlike his contemporaries who tend towards thinner, lightweight pieces with more subtle curvature, Kato is becoming known for his sturdy, geometric wood-works that recall a traditional carpentry practice.

Born and raised in Japan, Kato trained as a 'Miya Daiku', or shrine carpenter. The practice has been used in Japan in the construction of temples and other large wooden buildings for centuries. And Kato's domestic-scale designs pay tribute to the Miya Daiku traditions.

Ian Orgias, the owner of Analogue Life and long-time Japanese craft enthusiast, first spotted Kato's tableware last year and was determined on bringing him to his gallery. The new exhibition will showcase Kato's tableware - plates, trays, bowls and spoons – as well as some very small serving tables. But it was Kato's technique as much as the Miya Daiku references that excited Ian about his work.

'Many wood artists producing tableware do much of their work with a wheel or lathe,' he explains, 'but Kato doesn't use a wheel at all. After cutting his wood, almost all the shaping of a piece is done by hand using small tools. He strives to keep the use of machinery to a minimum so that each item he makes is truly handmade.' Indeed, Kato's tables even allow for construction sans nails and screws.
ADDRESS
Analogue Life
E-3 Rapersiz Higashi Shirakabe
1-17-9 Yoshino, Higashi-Ku
Nagoya, 461-0027

VIEW GOOGLE MAPS (opens in new tab)