Milan celebrates 'Women in Italian Design' at Esposizione Internazionale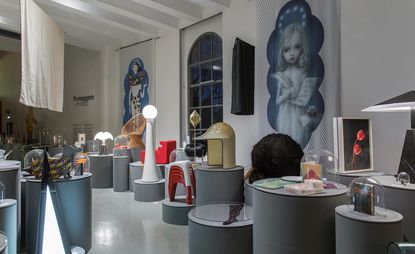 (Image credit: Courtesy Gianluca Di Ioia La Triennale)
Having taken off during last year's Expo, Milan's Triennale is on a roll. In honour of the upcoming Salone del Mobile, and after a 20 year hiatus, the institution re-launches its Esposizione Internazionale, a single-themed, multi-curated network of exhibitions scattered throughout the city. Twenty exhibits dedicated to '21st Century Design After Design' can be found at the city's leading contemporary art institutions, including Hangar Bicocca, Fabbrica del Vapore, Museo della Scienza e della Tecnologia (in a new pavillion designed by Luca Cipelletti) and Mudec.

As for the Triennale itself, the design museum is packed with programming associated with the Esposizione Internazionale, as well as single-themed exhibits of note. One of these is an excellent 'Women in Italian Design' show curated by the Triennale's director Silvana Annicchiarico and designed by Margherita Palli, a Milan based set designer for La Scala.

The show brings together 650 objects designed by 400 Italian women, or female designers working for Italian companies. The show begins in the early 20th century with a weaving room, where women's design skills were first applied to carpets, tapestries and lacework. From there, it jumps off into a colourful, joyful ride of creative output displayed on grey stacked cylinders, including ceramics, silverware, jewellery, furniture, woodwork and even chocolates – such as the famous 'Bacio Perugina' designed by Luisa Spagnoli (before she came along, the 'kiss' confection was given the name 'punch' – by a man, obviously).

Work from big female names in design – such as the recently passed Zaha Hadid (opens in new tab), Gae Aulenti, Gabriella Crespi, Patricia Urquiola and Elsa Peretti – are all represented and mix easily with now anonymous talents. Italian women who have contributed significantly to Italian design such as Rossana Orlandi and Nina Yashar are represented with their signature sartorial codes; in this case, an unmistakable set of eyewear and turban, respectfully. Another Italian female, Irene Bacchi, created the cool graphics for the catalog and logo.
INFORMATION
For more information, visit the Milan Triennale's website (opens in new tab)