Fair game: Wallpaper* rounds up the hits from NYCxDesign 2016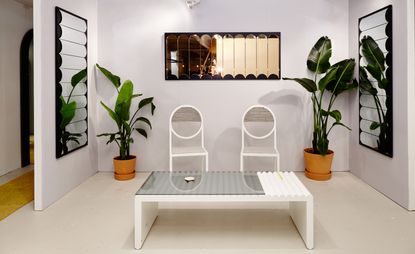 (Image credit: Pippa Drummond)
NYCxDesign, which yesterday came to a close after a 14-day run, is swiftly becoming as much of an all-encompassing design week as its competitors in Milan, Paris and Stockholm, et al. Not just marked by a slew of gallery and boutique openings, the event also encompasses a series of headlining fairs, many of which expressed an uplifting maturity this year. Stronger across the board than in years past, these fairs include the futurist Sight Unseen Offsite, the internationalist Wanted Design, the megalith International Contemporary Furniture Fair, and of course, the Collective Design Fair (opens in new tab), which helped kick things off on the right foot.

Within the aisles of these showcases were treasures to be discovered. These not only pointed to the healthy state of the design world, but also showed that innovation and aesthetics are being considered in equal measure. Practitioners, from the independent to incorporated, continued to follow strong lines – a fascination with geometry, from art deco to Memphis-inspired, prevailed; while a contemporary reimagining of historical styles or manufacturers, too, saw an exciting new dialogue sparked, as with the 'Furnishing Utopia' Shaker reinterpretation at Sight Unseen Offsite.

Now in its third installment, Sight Unseen Offsite – organised by Monica Khemsurov and Jill Singer's titular trend-predicting website – was located this time across an empty office floor of the Grace Building facing Bryant Park, and was chock-full of hand-crafted, youthful designs. The show was armed with a host of fun surprises, lurking behind every corner: from design-forward children's furniture by Kinder Modern – whose geometric modular rugs formed an interactive chessboard, with stools-cum-chess pieces designed by Matthew Sullivan of AQQ Design – to Bower's deco-echo hall of mirrors, the jewellery-like pendant lamps of Jean-Pascal Gauthier and 'Topo', an immersive environment of foam-rollers backed by a soundbath, designed by architects Leong Leong for Ford.

Over at Wanted Design's usual Manhattan haunt of the former Tunnel nightclub, innovation seemed to be the name of the game. 2016 American Design Honors winner Steven Haulenbeek introduced a new series of resin-bonded sand vessels and étageres, that emerged after he spotted the bronze foundry next to his Chicago studio discarding the beachy material. He also showed his 'Ice-Cast Bronze' tables and vases, made by bonding bronze into ice molds and allowing the molten material to capture ice's naturally fragmented texture.

'Pole Position', a best-of showcase from Poland, featured a slew of young designers reimagining the output of the nation's numerous ceramics factories, including the gorgeous 'Touch of Blue' series from Cmielów Design Studio, working at the 223-year old porcelain factory in Chodzież. Visual Magnetics, who recently teamed up with Dusen Dusen to create a movable modular wall coverings, introduced the wonderfully useful 'Polarity Collection' in collaboration with Studio Visibility, that features a new 'invisi-lock' system of shelves, catch boxes and marker holders on a moveable, magnetic, writable workplace system.

At its Brooklyn outpost in Industry City, Wanted Design created a Franco-American cultural exchange program, wherein designers were paired with manufacturers to devise a new product. Here, Ligne-Roset teamed up with Marc Thorpe to design a canopy seat which, while only supposed to be a prototype, has been picked up by the successful French furniture company.

Although known for mixing bathroom fixtures, quartz manufacturers and independent design firms, ICFF had a strong turn this year with a selection of sophisticated design offerings that really stood out. Flavor Paper's collaboration with the egregiously overlooked art director Wayne White (known for his sets on PeeWee's Playhouse) took shape as a cheeky pastoral mural-cum-wallpaper called 'Waynetopia'. The Brooklyn-born lighting studio Rich Brilliant Willing collaborated with David Rockwell on three new LED fixtures of reinterpreted geometric forms, in luxe metals. Umbra Shift presented new additions to its line of thoughtfully designed home accessories, while Egg Collective and Volk both presented new furniture pieces that seamlessly combined expert craftsmanship with sophisticated design.

It was also a big week for Apparatus, who presented a sexy, streamlined booth featuring a sculptural umbrella and coat stand, together with its brass-and-blown-glass 'Tassel' pendants and marble 'Portal' table, alongside the opening of its sumptuous new showroom/studio (opens in new tab), just a few blocks away.
INFORMATION
For more details on all of the fairs, please visit NYCxDesign's website (opens in new tab)