Middle East revealed: W* explores Dubai's growing design scene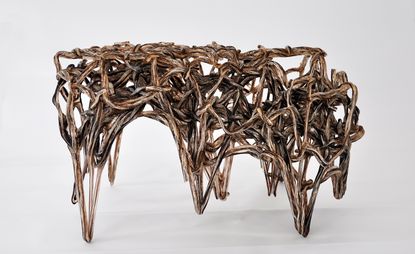 (Image credit: Anjali Srinivasan)
When Dubai-based Khalid Shafar shared a podium during Wallpaper's inaugural 'Middle East Revealed' exhibition in East London (held in September 2014), he commented on the abundance of gender equality in the design show's curation.

The women, represented by Emirati photographer Lamia Gargash, Beiruti designers Nadine Kansko (who specialises in jewellery), and Nada Debs (the creator of a 'Carving Times' series of vases), and Emirati furniture designers Latifa Saeed and Aljoud Lootah, were the show's richest pickings – a contrast to the male-dominated Western design world. Not by design, more by education.

To the contrary, Shafar explained, the inequality in the Middle Eastern design world is pro women. It is unusual to find men seeing design, as we know it, as an acceptable profession. In fact, there is no word for 'design' in Arabic, nor 'space' as a three-dimensional concept (nor 'deadline' for that matter). Educationally – in the UAE at least, from where most talent seems to be emerging (though Lebanon has been a strong hold for some years) – the root to design thinking comes via subjects such as graphic design and engineering, unlike the UK and USA where product and industrial design take the forefront as degree subjects.

Design thinking is therefore generally fresher and less explored in the MENASA region than elsewhere, generating a new contemporary aesthetic based upon stringent engineering using craft techniques which reflect local cultural geography. Contemporary Middle Eastern design is looking hot and thanks to local design fairs Dubai Design Days and the fledgling Dubai Design Week, which takes place in October, we can finally bear witness to this trend. With help from external influencers – including Wallpaper's own support for the region's cultural shift – one can plot the migrant designs that will have a knock-on change within the creative industries.

During Dubai's Art Week, Marriott International staged 'Cultural Game Changers', a discussion streamed to a world audience with a panel of six regional influencers, all of whom happened to be be women. The speakers included Kinda Ibrahim, director of media partnerships for Twitter in the Middle East and North Africa, Danielle Perissi from Abu Dhabi's Image Nation (producers of the BAFTA nominated He Named Me Malala) and fashion designer Khulood Thani. The message was resonant.

There are women at the top of many creative industries. Dr Amina Al Rustamani, group CEO at TECOM and the woman responsible for heading up d3 (Dubai Design District, Wallpaper* magazine's partner in the 'Middle East Revealed' exhibitions), has an enormous job on her hands, creating, in effect, a mini design city that will bring not just attention to the burgeoning region but serious industry. (Interestingly, thanks to high profile women's rights policies in Dubai, there has been an influx of management roles for women in media, police and the military.)

The past two to three years have shown a reposition in perceptions to creativity in the Middle East, where in many countries 75 per cent of the population is under 35 years old. The new breed of talent, under better scrutiny, is now making its debut in other parts of the globe. Aljoud Lootah, exhibited at both 'Middle East Revealed' exhibitions, supported by curator Cyril Zammit and showcased at Dubai Design Days, now has pieces in a permanent collection in Melbourne. Meanwhile, Istanbul's Tamer Nakisci was selected as a result of the Wallpaper* exhibitions to take part in ICFF Studio in New York, under the support of American giant Bernhardt Design and CEO Jerry Helling, a talent spotter if ever there was one. Architect Fadi Sarieddine continues to create exquisite furniture, as seen at last week's design festival, reaching an international buying audience.

Above, we showcase developments made since our inaugural 2014 exhibition and the new crop of talent from Design Days Dubai.
INFORMATION
Design Days Dubai ran from 14–18 March 2016. For more information, visit the Design Days Dubai website (opens in new tab)