The future was: Wallpaper* explores Art Dubai 2016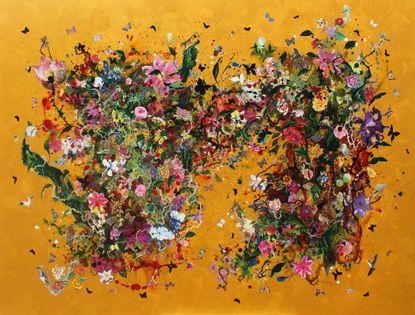 (Image credit: Courtesy Saskia Fernando Gallery)
Three decades ago, when Leila Heller opened her New York gallery with a young Iranian American artist, she asked him to change his name fearing possible American disdain for an artist born in Tehran. Since then, the work of YZ Kami has been collected and exhibited at New York's Metropolitan Museum, MoMA, The Whitney and the Smithsonian, as well as many other museums worldwide. This year, the same artist takes up 14,000 sq ft of sublime space at Heller's first international gallery, located in the burgeoning Alserkal Avenue district during the week of Art Dubai. Itself one decade established, the festival is spearhead by numerous events and interventions that have grown to make Art Dubai a most curious and culturally appealing global art fair.

Alserkal Avenue, a repurposed old industrial space in the otherwise little-known Al Quoz, was founded by Abdelmonem Bin Eisa Alserkal in 2007 and following an expansion of 250,000 sq ft in 2015, can now be considered one of the hottest endroits for permanent gallery space and roving art shows imaginable. This includes one during Art Dubai for London's Royal College of Art (entitled 'RCA Secret Dubai'), and later this year the site will boast a new event space designed by architecture firm OMA. The times they are a changing.

This is the message predominant throughout the many activities on Art Dubai's program. Taking place within the confines of the fair itself at the sprawling Madinat Jumeirah, the title for this year's Global Art Forum is 'The Future Was'. This tenth edition of the Forum – which began simultaneously in London and Dubai in January 2016 and continued at Art Dubai – gave compelling voice to the way artists, technologists and historians have imagined and are shaping the future. And according to Oxford-educated urbanist Rashid Bin Shabib, The Future Was Dubai.

Founders of the interdisciplinary practice Cultural Engineering – which was nominated for an Agha Khan architecture award back in 2010 – Rashid and brother Ahmed have spent ten years advancing the urban identity of contemporary Gulf culture and cite how, in 1972, Corbusier-collaborator George Candilis created a masterplan for Dubai. The brothers' contribution to the Global Art Forum brought forward the ideals of modernist John Harris and the work of Greek architect Constantinos Apostolou Doxiadis who also planned the cities of Detroit and Islamabad, presenting a compelling visual history of the implied, unrealised and jettisoned ambitions of Dubai's master plan.

Throughout the city during Art Dubai, satellite shows and partnered events have morphed to become a comprehensive festival, Art Week, with artist-lead creativity at Sikka Art Fair, the first initiative of its kind founded by the Dubai Culture and Arts Authority to showcase Emirati based artistic talent; and the patron-lead activity at Tashkeel, where creatives rent inexpensive space to work. The Wedding Project, presented in collaboration with the Delfina Foundation, is a new performative project, and this year two rooms at the Madinat were transformed into a wedding hall with ticketed, 11-course gala dinners on offer.

Design Days Dubai, curated by Cyril Zammit, coincides with Art Dubai and showcased a fresh and burgeoning design scene. Within the art fair itself, founded by British ex-pat Ben Floyd, curated by Antonia Carver and held under the patronage of His Highness Sheikh Mohammed Bin Rashid Al Maktoum, a plethora of galleries from the entire MENASA (Middle East North Africa South Asia) region sit confidently alongside those from other continents. Ninety-four galleries from 40 countries in total are represented, with MENASA making up half of these. In addition, 45 per cent of participating artists were female – a higher proportion than any other art fair.

Partner d3 (Dubai Design District) initiated its own activity during the week. This included Mario Testino's first exhibition in the Middle East and Dubai Photo, a curated journey featuring 23 countries. Unlike Art Dubai, Dubai Photo is not a commercial enterprise, but an exercise in exposition in which nothing was for sale. It was art for art's sake, with the highlight being the collection of His Highness Sheikh Hamdan bin Mohammed bin Rashid Al Maktoum, the Crown Prince of Dubai, who has collated a wealth of engaging images, cataloging the growth of Dubai since the 1960s. These include emotional images of the first schools, children at wooden desks in the desert and one of energetic teens in anticipation of Dubai's first cinema, Al Watan – powered by an electric generator that also provided coloured lighting at the cinema entrance. In the photograph, a young man uses a megaphone to advertise the screening while others peruse a storyboard of stills. It's an enticing hark back to the future of Dubai.
INFORMATION
Art Dubai ran from 16–19 March. For more information, visit Art Dubai's website