Photo finish: Dubai hosts inaugural photography exhibition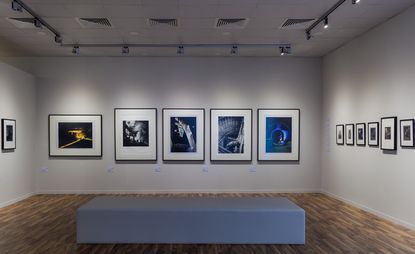 (Image credit: Hamdan Bin Mohammed Bin Rashid Al Maktoum)
The Dubai Photo Exhibition held it's inaugural event this weekend, showcasing over 700 works from 23 countries in an exploration of 20th and 21st century photography.

Overseen by 18 curators, including Martin Barnes of the V&A, the exhibition was staged in a purpose built 'temporary museum' in Dubai's new Design District (d3) – home to the region's growing art and design industries – offering a global perspective on both historical and contemporary photography.

Intending to place Dubai as a photography hub, The Hamdan Bin Mohammed Bin Rashid Al Maktoum International Photography Award (HIPA) collaborated with the World Photography Organisation on the project, bringing in Zelda Cheatle as head curator. Cheatle – whose 35 years of experience in 'putting pictures on the wall' was evident – hoped the exhibition was 'on par with any museum'. 'Photography,' she explains, 'is a relatively young medium, and the UAE is a relatively young country – we hope Dubai could become synonymous with showing great photography.'

Highlights included Madan Mahatta's images of architects and their homes for India (curated by Devika Singh) and She Daike's beautiful black and white landscapes documentating geographical changes around the Yangtze River over 40 years (curated by Huang Yihuang). Even without Dorothea Lange's Migrant Mother, the inclusion of critics favourite Alec Soth, plus Nicholas Nixon's The Brown Sisters made the USA & Canada's offering (curated by Natasha Egan) a heavyweight exhibit. A triptych of Pieter Hugo's images made for a haunting representation of life in poverty in South Africa, while Simon Menner's Stasi portraits were a comedic turn for Germany. Japan had an extremely strong showing with Daido Moriyama, but it was Takashi Arai's daguerreotypes that stole the country's show – his mastery of this classic and complex production method resulting in arresting black and white images, presented with singular light bulbs and reflective glass around each iteration.
Takashi Arai is a master of the classic and complex daguerreotype production method. Pictured left: Simon Menner's Secret Stasi Archives from the 'Chapter: Teaching - From a Desguise Seminar', 2013. Courtesy the artist. Right: Radioactive Lilies, Iitate Village, Fukushima, from the series 'Here and There – Tomorrows' Islands', by Takashi Arai, 2011. Courtesy the artist
INFORMATION
The Dubai Photography Exhibition ran from 16–19 March 2016. For more information, visit the HIPA website (opens in new tab)