Coral story: jeweller Zuleika Penniman links up with Dubai's past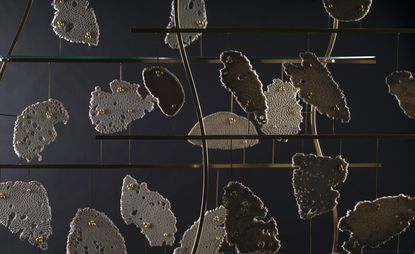 (Image credit: press)
Zuleika Penniman is foremost a jeweller, so it's no wonder that background research for her residency with the Tanween Programme in Dubai would take on the shape of a necklace. Starting at the Gulf Coast, she drove in a meandering line through the Arabian Desert and, eventually, the Western Hajar Mountains– parking and walking for hours, filling her car with materials.

It's the derelict old Emirati homes dotting the countryside that would come to be the gems in her winding chain. Nearer to the coast, they spill their innards: bricks of coral that Penniman began to collect.


'Nobody would have seen the coral until the home falls apart,' the designer says, certain of the poetry of a material 'taken from the sea and used to build in the desert.'

Penniman set out to create a design that would do the coral–and its history–justice. 'I cut it, I burned it, but at the end of the day I used it in its purest form,' Penniman says.

Her residency with The Tanween Program is run by contemporary arts organization Tashkeel and culminates with Design Days Dubai, where each designer shows one product.

Ultimately, Penniman created the shelf Coral Wall, delighting fairgoers with its delicacy. Despite appearances, every part of the design is functional, down to the gold studs holding the coral in place. The studs are reminiscent of the coral polyps that make up pieces of reef.

'[The] porous material appears fragile and brittle but it's strong,' says Penniman, 'It tells a story that is so relevant to Dubai, even today.'

The city proper has, of course, moved on to much flashier means of construction. But Penniman's humble building blocks (so elegantly arranged) resonated with fairgoers because of their origins. Dubai has come so far in such a short amount of time (the UAE itself was established in 1971) that the burgeoning arts scene is doing much to make sense of the city's identity.

'That's the essence of the piece, this memory of the UAE from the past,' Penniman says. As for her future, she hopes to set up a studio or collective and pursue her jewellery. Hopefully, she will continue to incorporate links from history.