Vital designs: Wallpaper* creates a rejuvenating retreat for Swissôtel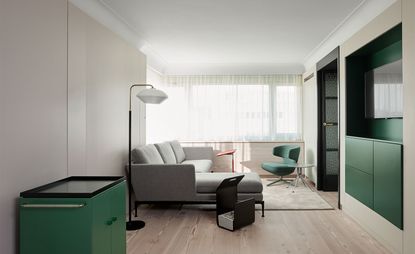 (Image credit: Photography: David Willen)
When Swissôtel approached the Wallpaper* Composed team, it was clear it wanted nothing less than an entirely new concept in hotel accommodation: the vitality room. The brief was for a suite where guests could not just sleep, shower and take advantage of the Wi-Fi, but also revitalise body, mind and soul.

'Feeling vital is a prerequisite to enjoying quality of life and one of the key pillars of our experience,' says Swissôtel vice president Lilian Roten. 'We wanted the new vitality room concept seamlessly to address many aspects of wellbeing, representing the living embodiment of our brand's values.'

Wallpaper* interiors director Amy Heffernan interpreted the Swissôtel vitality room as the very definition of wellness. Craft, texture, surface and form are foremost in this contemporary retreat; technology is discreet. Clever, calming design ensures the guest experience is relaxing and tranquil.
The materials and aesthetic honour Switzerland's history of craftsmanship and luxury design. 'As well as reshaping the conventional hotel room layout to optimise views and improve functionality, we have introduced key elements that define the wellness experience,' says Heffernan. 'We chose a clean material palette. Furniture and clutter are reduced to a minimum. There are soothing black-out blinds, dedicated space for exercise and relaxation, and serene lighting.'

To ensure perfect repose, Wallpaper* called on brand partners including Vitra, Laufen, Dornbracht, Lasvit, NOHrD, Dinesen, Philips, IQAir, Interel and Krebs. Each brand was chosen by Heffernan and her team because of a shared commitment to sustainability, luxury, craftsmanship and functionality in design.

Many amenities were developed exclusively for the vitality room, including the compact 'wellbeing wall', which features user-friendly exercise equipment and a cyber-trainer offering personalised workouts. The bed was designed by Heffernan using Dinesen timber, while the headboard, constructed and fitted by Vitra, is a sensual, semi-cocooning exercise in leather and wood. A mobile minibar, also designed by Heffernan and made by Vitra in leather and lacquered wood, dispenses mineral waters and health drinks.
Furniture includes tables with adjustable heights and a variety of seating options. Dinesen's Douglas Classic timber flooring brings a natural tactility to the room, and a high-performance air purification system aids guests who are exercising or suffering from respiratory allergies. Bespoke bath and shower features allow guests to tailor their experience through lighting and scent, with water pressures to soothe and revitalise.

In a first for the hotel industry, the room also features programmable, circadian lighting that offers soft colour options, influencing the secretion and release of melatonin in the brain. This helps travellers to overcome jet lag or a lack of sunlight, and gently assists in the transition from yoga mat to power shower to duvet.

As originally featured in the January 2017 issue of Wallpaper* (W*214)
INFORMATION
For more information, visit the Swissôtel website (opens in new tab)