Civil service: Wallpaper* Composed creates dazzling concepts for an architectural icon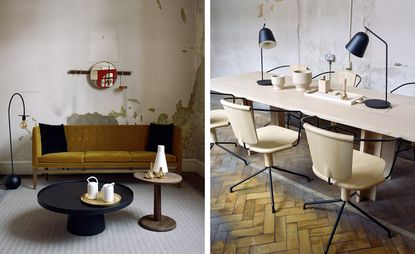 (Image credit: Tobias Harvey)
Wallpaper* Newsletter
Receive our daily digest of inspiration, escapism and design stories from around the world direct to your inbox
Thank you for signing up to Wallpaper. You will receive a verification email shortly.
There was a problem. Please refresh the page and try again.
Back in 1899, after winning a national competition, Messrs Woodhouse, Willoughby and Langham set to work on a landmark fire station building on London Road, Manchester. The revered architects based their design for the multi-use structure on sketches drawn by the chief fire officer, George William Parker, on his shirt cuff. It was equipped with air conditioning and electric alarms, and was capable of accommodating the motorised fire engines that were to replace the old horse-drawn units.

After its completion in 1906, the red brick and Burmantofts terracotta structure became a bona fide Mancunian icon. This baroque cathedral to civic duty housed a seven-bay fire station, a police station, a bank, a coroner's court, workers' accommodation and a gas-meter testing station.
Eighty years later, the Greater Manchester fire department and the police station were relocated, and the magnificent Grade II-listed building was left vacant. A 30-year period of dereliction, decay and uncertainty followed. Various grand schemes to convert it into a hotel, a music venue and a museum all failed. In 2001, in a state of steep decline, the London Road fire station was placed on English Heritage's Buildings and Structures at Risk register.

Too important to demolish and too expensive to redevelop, its future looked bleak.

Enter Mike Ingall, founder and CEO of Allied London. With the redevelopment of landmark buildings front and centre on his CV (most notably London's brutalist Brunswick Centre, designed by Patrick Hodgkinson), Ingall set to work on his own grand plan for London Road. The reimagined building will combine 21st-century living and working arrangements with a boutique hotel, 'all underpinned by carefully-curated event, leisure and cultural spaces that will bring a new dynamic to the city'.

Protection and preservation are at the heart of Allied London's proposal. The integrity, fabric and layout of the original design will be regarded as inspirational rather than troublesome. Fixtures and fittings such as oak doors, firemen's poles, old light switches and Shaker-style coat pegs will be made good. Ripped-out fireplaces will be reinstalled, layers of vintage wallpaper in the living quarters will be framed in situ as artworks. The decayed will be restored and replaced, the distressed made good and adapted. Earlier this year, Allied London's plans were approved by Manchester City Council. After three decades, London Road is 'action stations' once more.

It was the fire station's courtyard that most inspired Ingall. Working with architects Levitt Bernstein, he will oversee the installation of a glass box at ground level and a major excavation that will unlock the potential of the building's vast basement as a public events space. 'We hope it will function rather like Wilton's Music Hall in London, morphing between uses and creating a hub of activity,' Ingall says.

To help envision the possibilities for the development's interiors, Ingall approached the Wallpaper* Composed team, led by interiors director Amy Heffernan, and London-based interior architecture practice Amos and Amos, with a brief to create a concept for contemporary live/work spaces within the rooms originally given over to the coroner's court. Ingall has asked the Zetter Group to run the five-storey boutique hotel, while the complex will also offer restaurants, bars, interactive art spaces, coffee shops, flower stalls, a cinema and a spa.

It sounds like a lot of work (completion is set for summer 2019), but Ingall is keen to play down the scale of the redevelopment and instead talk up the fire station's gentle renovation. 'It would be impossible to build something to the original standard of London Road today,' he says. 'And all things considered, the building is in a pretty good state. We don't actually need to do a lot… and we don't really want to either.'

The notion of careful intervention rather than major reconstruction is key in a project like this, Ingall explains. 'It's less about what you are adding, but [more about] how you are adding and how little you can take away. Anyone can develop a new building. But few can make an old building work again, make it sustainable… make it live again.'
As originally featured in the October 2017 issue of Wallpaper* (W*223)
INFORMATION
For more information, visit the London Road Manchester website
Receive our daily digest of inspiration, escapism and design stories from around the world direct to your inbox