W Hotels Designers of the Future Award, 2012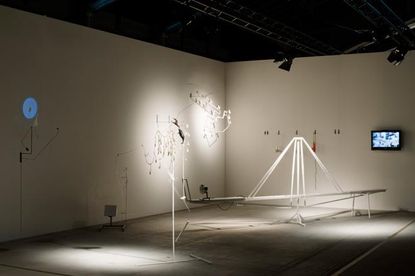 (Image credit: press)
One of the more surprising pieces at Design Miami/ Basel (opens in new tab) last week was a see-saw by Tom Foulsham (opens in new tab). When two people sat perfectly balanced at either end, it could be made to slowly revolve using only the power of their breathing - or for a slightly wilder ride, a hairdryer. It attracted a good deal of attention and enquiries from collectors (and their kids) even before its official unveiling, but according to Foulsham, it's still really a work in progress.

Foulsham, who is based in London, trained at the Royal College of Art (opens in new tab) and is one of this year's three recipients of the W Hotels Designers of the Future Award (opens in new tab), now in its third year. With Philippe Malouin (opens in new tab) and Markus Kayser (opens in new tab) making up the trio, the full installation was one of the highlights of the Design Miami/ Basel (opens in new tab) fair. Responding to the brief 'From Spark to Finish', the designers all created new works for the show that highlighted the creative process.

In recognising innovative and emerging design studios, the award seeks to provide the designers with a global platform to showcase their work, while also developing working relationships between the W brand (opens in new tab) and the winners that will later play out in their rapidly-increasing portfolio of properties. Picked by an international jury of especially clued-up design experts, the list of past recipients includes Asif Khan (opens in new tab) and Mischer'Traxler (opens in new tab) (winners of the 2011 award) and Raw-Edges (opens in new tab).

Markus Kayser, a German-born designer who also studied at the Royal College in London and has already been headhunted by MIT (opens in new tab), garnered much attention for his astounding graduate project, the Solar Sinter (opens in new tab) - a machine powered by the sun's rays, which melts sand and 'prints' it into glass objects using rapid prototyping technology. His project for W is called Lightzeit, and explores ways in which the ever-changing qualities of natural light can be harnessed artifically.

A minimal light installation comprising tubular lights and globes, the intensity and colour temperature of the space changes according to the time of day and geographic location, reconnecting it to the natural rhythm. It can also be set manually, making it a perfect jetlag remedy that W might want to look at installing in its rooms.

Philippe Malouin's project - one of the more photogenic pieces in the fair - is called Daylight. A series of 'artificial windows' inspired by plantation shutters, in the familiar geometric shapes that make up a Tangram, the shutters contain an artificial light source designed to mimick natural daylight and give the impression of a real window behind it. The light intensity can be adjusted by manipulating the angle of the shutters. Malouin, also London based, is originally from Canada, and studied at the Design Academy Eindhoven (opens in new tab).

In Foulsham's space, the 'Go-Round' see-saw is joined by a number of other fascinating balancing acts. Among them is an up-side-down toy giraffe, its entire body weight delicately balanced via a cantelevered system on the nose of a whale. A tiny propeller powers it with the momentum to spin slowly around. Like all of his pieces on show though, it's continuously evolving: Foulsham says he is already in the process of building a life-sized version back in London. Watch this space - because at this rate these three designers will need a lot of it.
Foulsham talks us through his projects
'Lightzeit' explores ways in which natural light can be harnessed artifically. A minimal light installation, it comprises tubular lights and globes. The intensity and colour temperature of the space changes according to the time of day and geographic location