[Killed]Video: Okay Studio teams up with the American Hardwood Export Council for a new furniture collection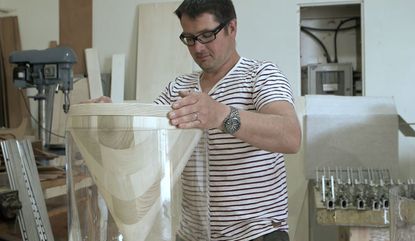 (Image credit: press)
The American Hardwood Export Council (AHEC) has long forged inspired design collaborations, from last year's Escher-esque installation with London firm dRMM, to more recently at the Salone del Mobile, where it teamed up with architect Carl Turner to create a juice bar for the fifth edition of Wallpaper* Handmade. Now its forays continue with a small but perfectly formed collection of hardwood furniture, created in collaboration with London-based design collective Okay Studio for this year's Clerkenwell Design Week.
The project, dubbed 'Five', brings together a crop of designers from the collective, including designers Peter Marigold, Andrew Haythornthwaite, Hunting & Narud, Mathias Hahn, Ed Swan and Liliana Ovalle for an exhibition at The Scin Gallery. The designers were originally presented with a variety of timbers – American ash, cherry, hard maple, red oak and tulipwood – and tasked with creating pieces inspired by these woods and the number five, to mark the London festival's half-decade milestone. Sculptor and fabricator Adam Kershaw helped bring the pieces to life in his Kent studio.

Taking pride of place in the front window of The Scin Gallery was Peter Marigold and Andrew Haythornthwaite's playful kinetic installation, comprising triangular curved tulipwood parts painted in bright pops of yellow and green. The pieces – strung together by tensile wire – are designed to gently sway and bob in the breeze. Hunting & Narud's offering, meanwhile, is an unusual series of side tables comprising hardwood cones encased in glass vessels.
Mexico City-born designer Liliana Ovalle has created a pair of lightweight benches crafted from American tulipwood. Entitled 'Claroscuro', the pieces explore the contrast between shade, light and form through its battens, machined in different thicknesses to create a subtle visual effect of changing density and perception.
Ed Swan took the brief more literally, with a collection of stacking pentagonal seating in five of the different hardwoods. Meanwhile, honing in on kitchen products and their origins, Mathias Hahn dished up a tidy suite of versatile utensils, named 'Runcible', that represent familiar archetypes but can used for different applications.