Bo Bardi's buildings: Veronika Kellndorfer explores Brazilian modernism, in LA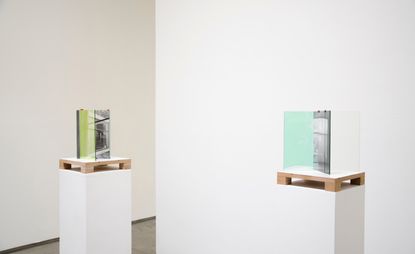 (Image credit: Christopher Grimes Gallery)
'My research into architecture proceeds from the idea that the past and present of a society can be read in its buildings,' says artist Veronika Kellndorfer as she unveils her latest exhibition at Christopher Grimes Gallery, Los Angeles. 'Tropical Modernism: Lina Bo Bardi' features new works inspired by the late Italian-Brazilian architect, in particular her iconic SESC Pompéia building in São Paulo and her former residence, Casa de Vidro, located in the grounds of the Muller Carioba tea farm in the Morumbi region, both considered outstanding examples of modern architecture in Brazil.

'I have always been interested in modernism, beginning with my previous body of work that focused on Los Angeles modernist homes by Schindler, Lautner and the Case Study houses,' Kellndorfer explains. 'Lina Bo Bardi's buildings have the rare capability to tell stories and incarnate the memory of a particular place. I recently spent time in Brazil where I examined the graphic qualities, the intersection of architecture and landscape, the transformations of light and the movements between inside and outside in Brazil's architecture, a place of the continuation of modernism.'

Using a technique Kellndorfer has been developing since the 1990s, she silk-screens then burns photographs she took of details of the architectonic sites in Brazil onto large glass panels, juxtaposing them with images of plant species taken at the Botanic Garden in Rio de Janeiro. The resulting works transform the qualities of the architectural space into two dimensions, combining image and form: the hyper reflective glass and the botanical elements recalling the Casa de Vidro's glass façade within its dense natural setting.

Beautiful to look at, the exhibition also opens up questions about the exchange between modernism and the environment. 'With this new exhibition I am tracing a line from the LA modernists to parallel modernist ideas that occurred in Brazil, but now with a different approach to landscape and nature as well as social utopian ideas.'
The works explored include Bo Bardi's iconic SESC Pompéia building in São Paulo and her former residence, Casa de Vidro, located in the grounds of the Muller Carioba tea farm in the Morumbi region.
Says Kellndorfer, 'I have always been interested in modernism, beginning with my previous body of work that focused on Los Angeles modernist homes by Schindler, Lautner and the Case Study houses'
Using a technique she has been developing since the 1990s, Kellndorfer silk-screens then burns architectonic photographs onto large glass panels, juxtaposing them with images of plant species taken at the Botanic Garden in Rio de Janeiro
INFORMATION
'Tropical Modernism' is on view until 2 September. For more information, visit the Christopher Grimes Gallery website (opens in new tab)
Photography courtesy Christopher Grimes Gallery
ADDRESS
Christopher Grimes Gallery
916 Colorado Avenue
Santa Monica, CA 90401
VIEW GOOGLE MAPS (opens in new tab)
Charlotte Jansen is a journalist and the author of two books on photography, Girl on Girl (2017) and Photography Now (2021). She is commissioning editor at Elephant magazine and has written on contemporary art and culture for The Guardian, the Financial Times, ELLE, the British Journal of Photography, Frieze and Artsy. Jansen is also presenter of Dior Talks podcast series, The Female Gaze.