Usagi: a new interdisciplinary space in Paris' third arrondissement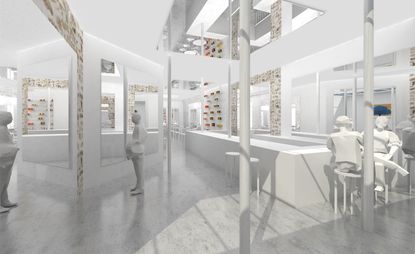 (Image credit: usagi, Courtesty: © Sou Fujimoto Architects)
It's inspired by Asia's mythical moon rabbit, but don't be discouraged if you can't get to grips with the full part-Japanese name of usagiと_ paris. Those in the know just call it 'usagi'. This new interdisciplinary space, designed by Sou Fujimoto, is dedicated to art and exchange, and has contemporary Japanese culture at its heart. Established to showcase a wide range of creative talent through designer-artist collaborations and collector editions, usagi is the latest new hot spot to open on the Right Bank, in a quiet courtyard on rue Notre Dame de Nazareth.

The brainchild of Michiko Horie, usagi comprises a contemporary art gallery, boutique and tea salon. Having lived in Paris for more than 15 years, the new venture's Japanese director sees the location as a gateway to Paris' third arrondissement – an area buzzing with new energy while still being culturally diverse.

Fujimoto's design of the space washes the building's original materials with swathes of white. Configured in a U-shape, the three spaces merge into one, with the exhibition and event space continuously adapting with solo shows, carte blanche exhibitions, performances or lectures. The inaugural show comes courtesy of French duo Christophe Berdaguer and Marie Péjus. Following this will be Laëtitia Badaut Haussmann's investigation of Charlotte Perriand and her 'Kyoto phantoms', who will haunt the gallery throughout the coming months. The primarily Franco-Japanese programming of usagi is being overseen by curator Julien Arnaud.

The boutique gives an outlet to up and coming young designers such as Salvy, Yasutoshi Ezumi and KIKOF. As the space becomes established, Horie also plans to give a platform to international designers and traditional artisans from Kyoto and establish usagi's own collection of contemporary products. For now, however, artist and illustrator Philippe Dufour-Loriolle has designed his first original limited edition series of sweatshirts, made from a fabric manufactured in Tokyo for the store.

Above all, usagi hopes to provide a welcoming atmosphere. In keeping with Japan's meticulous tea ceremony traditions, young Japanese chef Mikiko Kanno (who honed her skills at the Grand Hôtel du Lion d'Or) is masterminding the salon's seasonally changing menu, fusing Franco-Japanese flavours with more formal creativity. Atsushi Tanaka (of restaurant A.T) will also create guest dishes on a regular basis.

usagiと_ paris will open officially on 29 January 2016 – overseen, of course, by the mythical moon rabbit.
INFORMATION
For more information, visit usagiと_ paris' website (opens in new tab) (coming soon)
Photography courtesy
usagiと_ paris
ADDRESS
usagiと_ paris
60 Rue Notre Dame de Nazareth
75003 Paris, France
VIEW GOOGLE MAPS (opens in new tab)