A collaboration between Tom Sachs and Nike is out of this world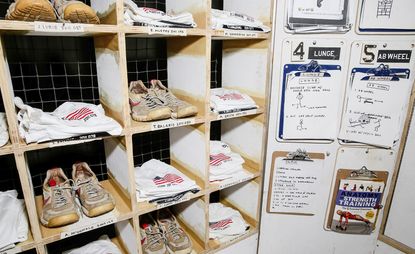 (Image credit: TBC)
Tom Sachs loves objects with battle scars: imperfections that bear witness to experience, character, and perseverance. The New York artist, who this year judged our Design Awards, embraces flaws in all his work — resourceful, rough-edged contraptions that harness the tension between imagination and reality. He recently unveiled his latest project: the NikeCraft Mars Yard 2.0.

The shoe, designed in collaboration with Nike, is an upgraded version of the original Mars Yard, a sneaker Sachs made for a NASA mechanical engineer (who wears them on the actual Mars Yard in Pasadena, California) and released in limited supply during his 2012 exhibition at the Park Avenue Armory, where he took visitors on an imaginary mission to Mars.

After wearing the kicks for a few years, Sachs' team, who view all works as works-in-progress, discovered ways it could be improved, and set about refining their initial design. The result, like all good things, must be earned. Interested parties can only acquire a pair of limited-edition Mars Yard 2.0s after completing Nike and Sachs' Space Camp, a fusion of film, athletics, art, and outer space that celebrates failure as a means for enlightenment.
Housed in an abandoned warehouse on New York's Governors Island, Space Camp tests physical and emotional strength. Upon entering, guests view a short film called The Hero's Journey, starring up-and-coming photographer Gray Sorrenti. Written by Sachs and his longtime collaborator, Van Neistat, the tale underscores the importance of defeat, setting the tone for the obstacle course ahead.

Each station, built in Sachs' signature DIY spirit, requires a different skill — knot-tying, push-ups, log-jumping, drawing a straight line — to be mastered not by rushing through, but by overcoming failure. Some tasks are intentionally bungled, implying that falling flat is a stepping stone to success. The entire routine is based on exercises Sachs' studio does on a regular basis to facilitate a sense of community and confidence. Completion yields the prize: early access to purchase the Mars Yard 2.0, available exclusively on the island. The new shoe prioritises durability. A polyester warp-knit tricot mesh upper offers increased breathability, while inverted treads and stronger stitching extends wearability. Each pair comes with mesh and cork insoles, the latter ideal for sockless wear, both covered in Sachs' illustrations.

As an artist who's known for criticising consumerism, Sachs' partnership with a white-hot sportswear brand seems unlikely. But his enduring friendship with Nike CEO Mark Parker is rooted in a shared belief in advancing human potential. 'Issues like planned obsolescence, loss of handicraft, and the mark of the individual are important to me,' Sachs says. 'I always try to use an experience, which in this case is the collaboration, to highlight the issues around what it means to make something in 2017.'

Made from materials in their natural state (and thereby more susceptible to showing wear), the sneakers invariably develop war wounds by enduring challenging terrain. 'Scars and wrinkles show you exist. They're a connection between your life experiences and the thing, which is very valuable,' Sachs says. 'Rocking your holes with pride and dignity — that's the true and only measure of cool.'
INFORMATION
'Tom Sachs and NikeCraft Present Space Camp' runs until18 June. For more information visit the NikeCraft website (opens in new tab)
ADDRESS
Governors Island
Battery Maritime Building
10 South Street
New York, NY 10005
VIEW GOOGLE MAPS (opens in new tab)