Tobeyaki blues: a new Shiro Ao pottery line, from Japan's Shikoku island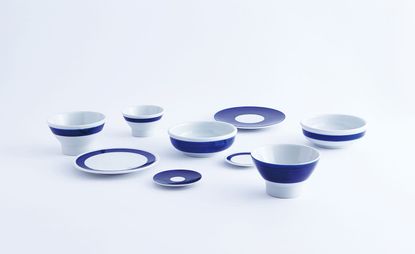 (Image credit: Shiro Ao)
Ever since Bernard Leach started introducing Japanese pottery to the western world in the early 1900s, the form has enjoyed international acclaim. The many communities of potters scattered around Japan are always well worth a visit and those in Tobe city, in northwest Shikoku, are no exception – especially given a newly launched Shiro Ao ('White Blue') line of bowls, cups and plates.

Under the creative leadership of local architect Shuzo Okabe and with a history of more than 230 years of experience, three young potters have joined together to produce a simple line of Tobeyaki (Tobe pottery) ware, with an inaugural offering comprising seven different bowls, five sizes of plates and a couple of cups.

Tobeyaki is known for the bright white sheen (afforded via the locally sourced uebi pottery stone) and contrasting blue colours that have made the brand's name. The bowls and plates are all hand painted with simple indigo lines or decorated using wooden seals with simple motifs, like flowers and fish. A series of special editions are also being developed in collaboration with a number of local artists, such as the 'Joshua Blue' line with gradiated blues by Yoshito Takenishi and the slightly deformed cups by Asato and Fujio Ikeda.

The non-intrusive colours and constantly evolving variation of shapes and sizes means that you should have no problem finding a perfect fit for your next Japanese-inspired dinner party.
INFORMATION
For more information, visit Shiro Ao's website
Photography courtesy Shiro Ao