Meet three Spanish studios creating dynamic designs for the 21st century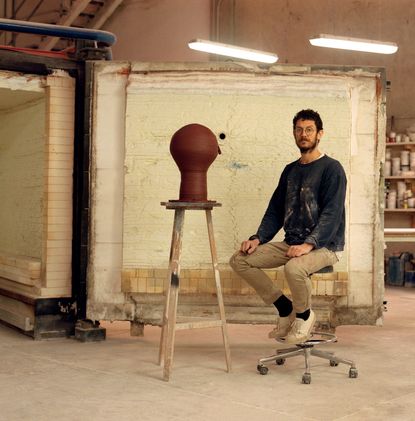 (Image credit: Alex Cascallana)
From their respective bases – in a Segovian monastery, a Catalan warehouse and a 17th-century Mallorcan alley – three Spanish design studios are taking inspiration from traditional materials to create dynamic designs for the 21st century. Working, variously, with clay, natural textile dyes and stone while introducing new technologies, they are garnering a global following and bringing Spain's artisanal heritage to the forefront of contemporary design.
Apparatu, Barcelona
A familial collaboration is at the heart of Barcelona-based ceramics studio Apparatu. CAP, a recent series of sculptures, sees Juan Mañosa draw on years of expertise on the wheel to create voluminous, elongated forms, while Xavier, his son, sculpts abstracted faces into them. Glazed in a range of colours, this artistic collaboration reflects their respective approaches to working with clay – a generational shift that has given Apparatu its unique place in the design world.

The company was founded nearly 50 years ago by Juan (his wife, Aurora, joined the company later), under the name Art-Foc, as a ceramics business that produced a range of dishes and objects sold mostly through trade fairs. It changed its name to Apparatu about ten years ago, when Xavier joined the business, and since his arrival has become known for pushing the medium in new directions, collaborating with leading local brands including Camper, Marset and BD Barcelona. At their vast studio, housed in an old industrial warehouse in Rubí, a small town 15km outside Barcelona, everything is still made by hand, with personal touches applied to every object, lighting fixture and piece of furniture.
Material experimentation is key for Xavier, who has recently collaborated with Spanish surface manufacturer Cosentino using its ultra-compact, high-tech material Dekton – an intensely heat-treated blend of glass, porcelain and quartz. 'This material has a lot of potential for design and objects, beyond typical kitchen and bath surfaces,' says Xavier, who has been working with Cosentino's engineers to study its properties and usage from an artistic point of view. He is currently collaborating on a new project with the brand, with plans to exhibit the results this year in New York or Miami.

Another ongoing project includes a range of handmade ceramic furniture for Isabel Marant's boutiques. Apparatu has produced a series of Brâncuși-like forms – cylindrical, oblong and cube-like pieces that fit together like a puzzle. They are built from clay mixed with fibre, which not only makes them lighter to transport, but lends them a unique, textured surface and an added 'earthy' quality.

Though Xavier continues to push the possibilities of clay for design purposes, he is also looking at its history and traditions. He's working on translating a book of more than 1,000 stoneware glaze recipes, developed by late Catalan ceramicist Josep Llorens i Artigas, who was known for his collaborations with Joan Miró. 'I like going back to the basics,' says Xavier, 'and being in that grey zone, teaching myself new things – just by sharing and listening, you can learn a lot.'
Ábbatte, Segovia
A textile company based in Segovia's Guadarrama Mountains, Ábbatte was launched in 2013 by Elena Goded Rambaud, a former fashion designer and university professor specialising in botany and the use of dye plants, and her daughter Camilla Lanzas Goded, an art historian and product designer. The pair were determined to revive the weaving traditions that once thrived in the region and create a line of contemporary textiles using natural fibres and dyes.

Ábbatte's HQ does a similarly neat job of matching the historic with the contemporary, with the brand's offices and weaving studios housed in a simple wood-frame building set within the ruins of a Cistercian abbey. Its floor-to-ceiling windows open onto the surrounding landscape, letting in natural light and giving the space its own monastic quality. The dyeing takes place in a smaller pinewood cabin, using plants which are grown on the property in a special botanical garden that includes many ancient and native varieties. Ábbatte embodies the slow movement approach to design, but in just six years, its love of heritage and place has reinvigorated a Spanish community and its traditions.
In fact, Ábbatte is as much an educational and cultural centre as it is a textile company, offering workshops and courses in weaving, textile history and dyeing throughout the year. 'As a textile brand, Ábbatte is less focused on creating collections and more interested in creating handcrafted pieces to last a lifetime,' states Miguel Cerezales Rotaeche, an expert dyer who oversees the company's sales and communications. 'Because of its production, each piece is essentially a unique new design.' Its customisable line of home textiles and scarves are woven in shades of cream, brown, grey, blue, red or green, with subtle linear or checked patterns. New projects include a twill textile design for a headboard that blends a linen warp and alpaca weft, wall hangings with a linen warp and wool weft, and a new line of upholstery fabrics.
Contain, Mallorca
'Mallorca's natural resources and traditions, such as stone and glass-blowing, are a central inspiration in our designs,' say Juan Peralta and Mauricio Obarrio, who launched Contain, a lighting and design studio, in Palma de Mallorca in 2017. The pair, partners in work and life, moved to the island in 2016 from Argentina, where Peralta had built a career as a creative director in advertising and Obarrio in industrial lighting design. The move has been fruitful – in two years, Contain has made its mark, with steady commissions including hotel projects, restaurants and private homes.

All the duo's products are made in their studio, located in one of the most picturesque alleyways in the heart of Palma's old town. It is also there that they are opening a store, in a loft-like garage space, where they will present work by other Mallorca-based artists and designers, alongside their own line of tables and lighting. Contain's output mixes new technology with the handmade, ranging from lamps that use 3D-printed parts along with natural stone, to terrazzo tables with colourful metal legs and brass fittings, and LED bulbs combined with hand-blown glass fixtures. The elegant lines call to mind art deco design while retaining their own, definitively contemporary Mediterranean style.
Mallorca has a longstanding connection with stonework, including terrazzo, used as flooring in its palazzos and traditional homes. Taking this as a point of departure, Contain began collaborating with local tile manufacturer Huguet, a heritage company founded on the island in 1933, to design a series of exclusive terrazzo patterns for tables and lamp bases. Different colours, spacing and stone inlays make nearly every final product unique, and clients can request customised designs to fit their needs.

Glass-blowing is another craft that once flourished on the island but has seen a downturn in recent years. For a project with Vila d'Amunt Singular Suites, a hotel due to open this summer in Palma's old town, Contain is working with Gordiola, a glassworks that dates back to the early 1700s, to produce a series of pendant lamps that combine an amber hand-blown glass disc with a brass suspension and an LED rounded bulb.

Also coming up for Contain are two other hotel projects, one in the community of Portitxol, outside Palma, which recently commissioned a batch of the duo's 'Connector' coffee tables, and another in the US, for Spanish hospitality group Riu.
As originally featured in the April 2019 issue of Wallpaper* (W*241)
INFORMATION
Receive our daily digest of inspiration, escapism and design stories from around the world direct to your inbox
Blaire Dessent is a freelance writer, editor and copywriter specialising in contemporary design, craft, art and travel. She works as the managing editor for TL magazine, a biannual, French/English art and design publication. In 2020 she was an editor and contributor to Imaginings by Kiki van Eijk, published by nai010. She is also the co-owner of The Alameda Shop, a creative lifestyle shop in Mallorca that works with contemporary artists and makers.