'This Show' at Heath Ceramics, LA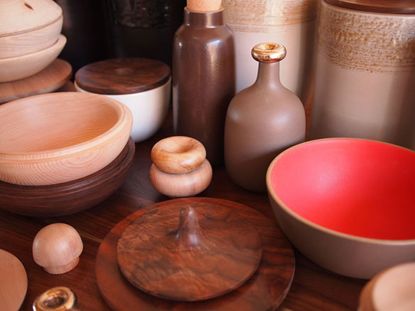 (Image credit: Alma Allen)
Heath Ceramics might be more than 60 years old but it knows how to keep itself youthful. Since industrial designer Catherine Bailey and her husband Robin Petravic took the helm, the company has shown renewed commitment to producing unique pieces and collaborating with other ceramic artists - the latest venture being 'Alma + Adam + Commune + Heath = This Show', an exhibition of one-of-a-kind pieces in its LA store.
Artist Alma Allen has created a series of hand-turned wooden lids to top a raw collection of vessels by Adam Silverman, the company's potter and studio director, ranging from bulbous forms with rough, bubbling surfaces to simple jar-like vessels with rich glazes. Also recipients to Alma's lids are a selection of pieces from Heath Ceramics' (opens in new tab) standard line, including everything from serving bowls to mugs.
And to complicate the equation further, Silverman's hand-thrown ceramic lids also top Alma's carved wood sculptures. Meanwhile, the show provides a limited edition preview of a 'nude' dinnerware collection by Commune (opens in new tab) - the multidisciplinary collective behind the design of Heath Ceramics' two stores.
ADDRESS
Heath Ceramics
7525 Beverly Boulevard
Los Angeles
California
VIEW GOOGLE MAPS (opens in new tab)