Magic circle: the making of Kim Thomé and Balineum's 'Round and Round' mirror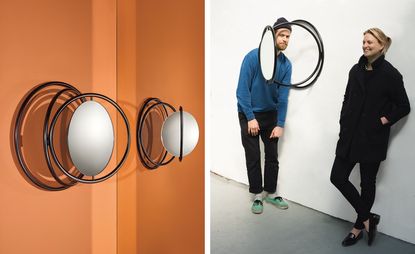 (Image credit: William Selde)
When we paired London-based Norwegian designer Kim Thomé with Sarah Watson of bathroom specialist Balineum on a commission to make a mirror for the Hotel Wallpaper* bathroom, they agreed on one thing: no one looks good in a magnifying mirror.
'That was our starting point,' says Thomé. 'We both agreed that we don't like magnifying mirrors – they tend to give you a shock when you look in them. I don't know a lot of people who have them in their house. It's more like you go to a hotel and you think, "What's this fun mirror?" Then you spin them around and you have a mirror that shows every detail of your pores – which I find slightly scary – and you think, "Oh, I look pretty ill in this mirror, you can see everything."'
Thomé, who attended the Royal College of Art, has a broad spectrum of practice, working on furniture, textiles and installations – including an 18m totem pole of crystal and colours, created for Swarovski to welcome visitors to the Victoria & Albert Museum during 2015's London Design Festival (opens in new tab).
For this commission, he rethought the operation of the mirror and the stance of the user, with a prototype produced in collaboration with Balineum. Thomé explains: 'A bathroom mirror is always behind a sink and if you want to have a closer look at yourself you lean over the sink into the mirror – if you don't happen to have a flexible arm. The design was about doubling up; creating a visually nice mirror that can sit flush against the wall, but then could also come out from the wall and close to your face without being a curved, magnifying mirror.'
Thomé developed the prototype in his friend's east London engineering workshop, using 22mm solid aluminium rods that were bent and welded. Bespoke hinges were designed to support the weight of the two moving rings and mirror. Thomé also fashioned handmade screws with a special attachment to hold the largest ring to the wall. Everything was then powder coated in black.
'Interestingly, it is hard to photograph when pulled out; you have to see a film clip to get it,' adds Thomé. 'I think it is a really commercial design,' says Sarah Watson, who founded Balineum in 2007 when she moved to London from New York and discovered she couldn't find cotton shower curtains she liked.
Her company has expanded slowly, offering a small collection of bathroom furnishings, from mirrors and tiles to linens, countertop accessories and furniture. Almost all of its sales are through interior designers, and the company works with a roster of makers and craftsmen; recent collaborations include accessories by Miranda Watkins and Reiko Kaneko.
Watson thinks the 'Round and Round' mirror could work as a production model: 'We may tinker with some small aspects of the design, but I think the mirror could be successful as a bespoke model. I can see designers asking for different colours.'
As originally featured in the August 2016 issue of Wallpaper* (W*209)
See more from Handmade here and check in to Hotel Wallpaper*…
INFORMATION
For more information, visit Kim Thomé's website (opens in new tab) or the Balineum website (opens in new tab)
Photography: William Selden. Still Life: Joel Stans