Draw bridge: the Illuminated River design competition lights up London
Draw bridge: the Illuminated River design competition lights up London
The word 'Thames' comes from the Latin 'Tamesis', meaning 'dark'. Hannah Rothschild, chair of The Illuminated River Trust, has set about transforming the murky sliver that winds its way though the capital, into a vibrant, light-flooded public installation.
Back in July, The Illuminated River competition challenged architects and artists to decorate central London's 17 iconic bridges with dazzling, permanent light works. It's where 'art, design and technology meet', Rothschild explains. A total of 105 submissions were received from around the world, whittled down to the six shortlisted entries now on display at the Southbank Centre.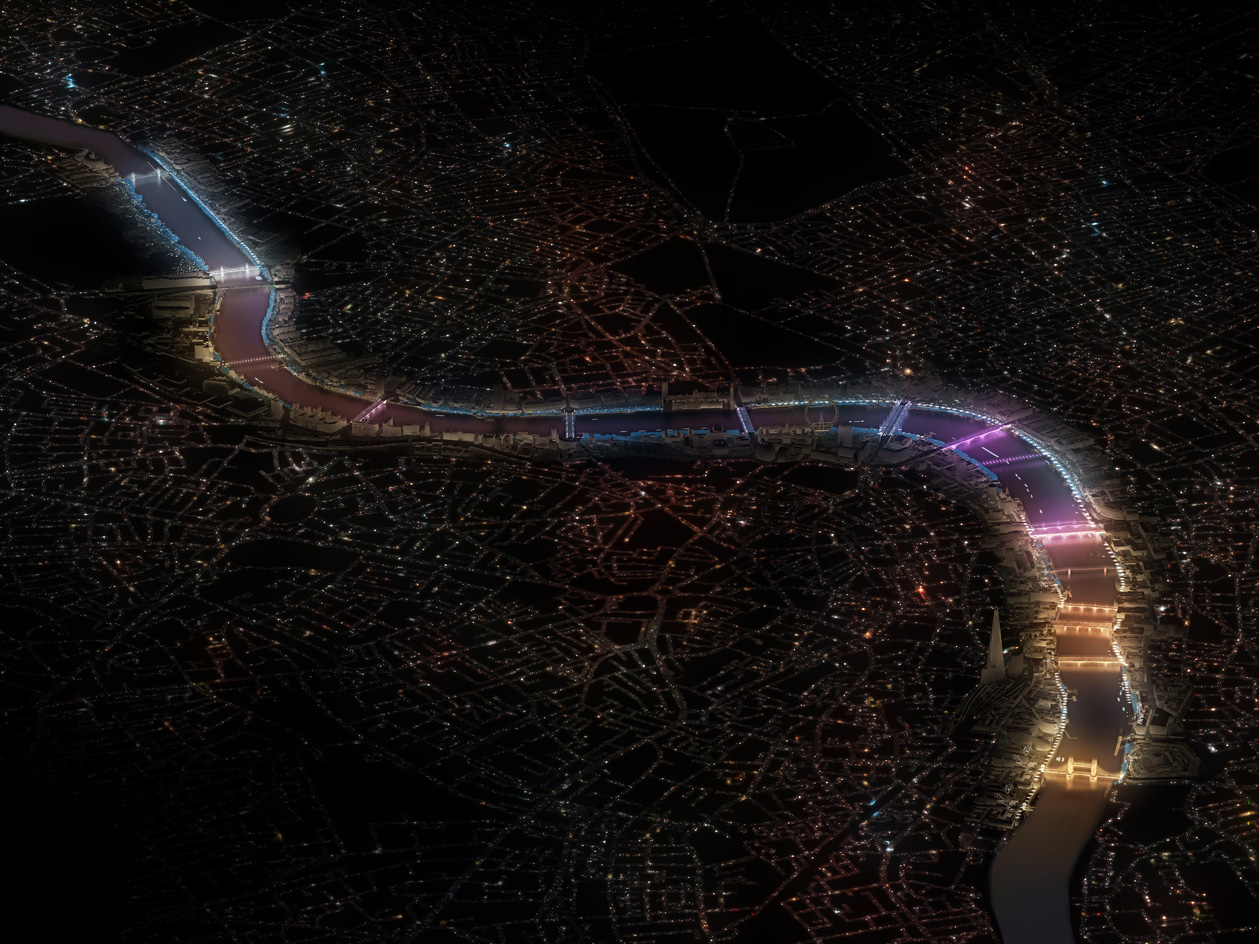 Aerial view of Current, by Leo Villareal and Lifschutz Davidson Sandilands
To impress the distinguished panel of judges, it seems collaborative working was a must – the more interdisciplinary, international and unexpected the better. Adjaye Associates' group offering features ideas from 17 world-renowned artists, including Philippe Parreno, Larry Bell and Chris Ofili; while Diller Scofidio + Renfro's Synchronising the City project enlists the help of Arup and Oliver Beer among others.
These impressive collaborations have spawned some predictably brilliant concepts. Sam Jacob Studio and Simon Heijdens' The Thames Nocturne forms a ribbon of light connecting Chelsea to Wapping – a live data feed reads the ripples in the Thames' surface water, choreographing the light show. Meanwhile, Amanda Levete's design studio AL_A relies upon the movements of the moon for its installation. When the tide is low, the bridges' underbellies are exposed, flooded in light. When the tide is high, light rises up, bathing their elevations.
'Saluting The Night' on Waterloo Bridge, by Diller Scofidio + Renfro
Although the complex, hard-won proposals are now in and awaiting final judgement on 8 December, Rothschild suggests that the hard work is only just beginning. Despite the Mayor of London Sadiq Kahn's full support, and £10 million already raised, there's a few hefty hurdles remaining – not to mention a further £10 million required to make the project a reality. All of the funding is expected to come from corporate or charitable donations, and Rothschild avows that 'absolutely no funding will come from the public purse'. With her evident passion, along with all those on team Thames (including Lord Rothschild, artist Michael Craig Martin, and Dame Julia Peyton-Jones), we're sure 'the dark one', as our great river has become known, won't be so for long. Rothschild says, 'The Thames is our liquid history and we must reclaim it.'
Information

'The Illuminated River' is on view at the Southbank Centre until 29 November. For more information, visit the Illuminated River website

Address

Southbank Centre
Belvedere Road
London SE1 8XX

View Google Maps

Telephone

44.20 7960 4200