The highlights: Dutch Design Week 2013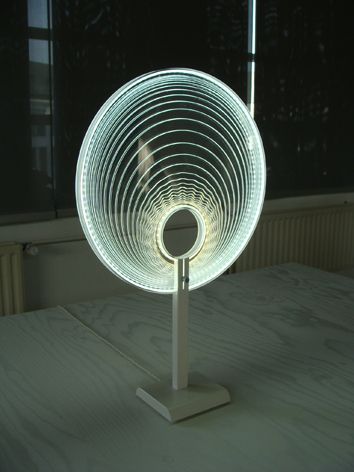 (Image credit: TBC)
One of our first stops at Dutch Design Week is always the talent hotbed that is the Dutch Academy Eindhoven, where the latest flock of graduates flaunt their final projects. This year, new creative director - graphic designer Thomas Widdershoven, of Thonik design studio (opens in new tab) - titled the exhibition 'Self Unself', asking visitors to explore the tension between the 'I' and the 'we' in contemporary design.

Some of the projects expressed personal fascinations (or the 'I') like Birgit Severin's beautiful drawings exploring her interest in breaking common forms of pattern. Others spoke about collaboration and social issues - what Widdershoven calls the 'unself' or the 'we'. One interesting example came in the form of Luc van Hoeckel's 'Single Spark'. Designed with war traumatised people in Northern Uganda in mind - it's a starter kit that allows people to start up a small ointment-making operation in order to help ease pain, generate an income and increase autonomy.

Widdershoven also extended the 'Self Unself' theme to the Van Abbemuseum, where he invited both established designers and selected Design Academy Eindhoven graduates to exhibit recent projects. Here, Hella Jongerius' collaboration with airline KLM on its World Business Class perfectly embodied the battle between the 'self' and the 'unself', with the designer having to negotiate between her own strong design aesthetic and those of the client.

Elsewhere in Eindhoven, one of our most exciting finds was a show by Dutch brand Vlisco (opens in new tab). Founded in Helmond in 1846, the hand-printed textile company has a huge following in West Africa for its colourful, geometric prints, but is little known back home. At Dutch Design Week, it entered the design foray by teaming up with Studio Job (opens in new tab). The design studio, known for its highly decorative prints and strong iconography, seems like a perfect match for the brand. Studio Job's one-off print, featuring African masks, snakes and leaf motifs, will be followed with more collaborations with designers. 'We're on the verge of becoming a new Vlisco,' declared CEO Hans Ouwendijk and creative director Roger Gerards.

Our Dutch Design Week tour also took us to the fledgling design district of Sectie C, where designers like Nacho Carbonell threw open the doors to their studios. We were particularly impressed by the refined 'Bellamp' by Akko Goldenbeld. Meanwhile, over in the sprawling former industrial Area Strijp - now filled with design and art studios - a spirit of collaboration was rife. A good place to linger was the group show 'Objects to Play' in the studio of painter Christiaan Lieverse, where the notion of the design duo reigned supreme. Oskar Peet and Sophie Mensen of Os and Oos studio conceived a tonal set of modular rugs, while Brit van Nerven and Sabine Marcelis teamed up on a beautiful series of glass objects that used layering and colour to play with perceptions of space. This trend for collaboration - an eminently practical one for young designers, who can pool their resources and talents - is one of the things that makes Dutch Design Week so interesting.