In the loop: the making of Sabine Marcelis' neon circles of light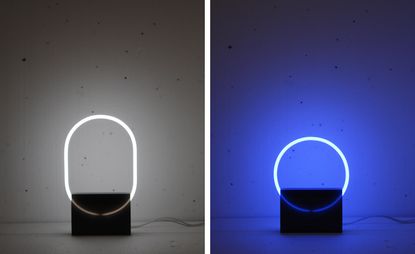 (Image credit: Studio Sabine Marcelis)
Light, in its simplest form, is merely a natural agent that stimulates sight and makes everything visible, but it's the manner in which it is revealed that is so arresting. With neon and resin as her accomplices, Dutch lighting designer Sabine Marcelis has captured the world's attention with each enigmatic collection of lighting she has created. After turning heads in 2014 with her 'Dawn' collection – where neon strands were artfully encased in perfectly hued resin sculptures – Marcelis has once again piqued interests with her 'Voie' light series.

Though the material players remain the same, their characters have taken on new personas and intentions. '"Voie" means path,' explains Marcelis. 'The collection was born out of a curiosity to manipulate the path of light.' This is something the Dutch designer consistently flirts with in all her projects. For Marcelis, it's the analysis of material that leads to further investigation. 'Within "Voie", playing with resin allowed me to manipulate the line of light in different ways, creating a stronger diffusion or dimming effect,' she states. 'And, neon was a natural choice as I have always been drawn to its vibrant light quality and malleable shape.' When asked about where she derives her creative perspective, Marcelis notes, 'I always have my eyes open and am actively curious and inquisitive about everything. Some may be surprised to find that I'm equally as inspired by nature as I am by technological advances and artificialities.'

It's been Marcelis' loyalty to such cutting-edge technology that has made her designs so prolific. Exploring the mutually beneficial relationship between materials and their subsequent interaction with light has been her industry trademark. 'The final shape and form of each project is really defined by the effect I want to expose or what the material properties demand be highlighted,' she says. The trained industrial designer has artfully carved her own path, one that strictly adheres to original content. 'My pieces are functionally decorative in the end,' she says, 'and demand an interaction with the space and user.' This trailblazer is certainly discovering new ways to turn light into an art form.
INFORMATION
For more information, visit Sabine Marcelis' website (opens in new tab)
Photography courtesy Studio Sabine Marcelis