Amsterdam's grand Felix Meritis unveils contemporary refresh by i29
Dutch architecture studio i29 is behind the listed Felix Meritis building's interior restoration and redesign in Amsterdam, a scheme bringing together historical glamour and contemporary design sophistication and technology, while enriching the city's culinary and cultural scene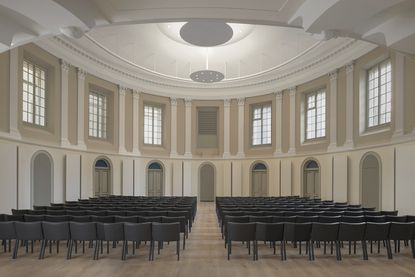 (Image credit: Ewout Huibers)
Dubbed 'the canal palace', Felix Meritis sits on one of Amsterdam's most well-known waterways, the majestic Keizersgracht. Now, celebrated interior design studio i29 has reinvigorated everything behind the iconic building's humbling historical façade by embracing its rich history and architecture; its grand spaces were once trotted by illustrious guests, such as Louis Napoleon Bonaparte, while throughout its 200-plus years of existence, the listed building served as a prominent stage for scientists, artists, thinkers and entrepreneurs.

Acquired by investors Amerborgh in 2014, the 1787 building originally designed by Jacob Otten Husly was soon given planning permission for a refresh in a bid also including architecture practice MATH. During the three-year renovation closure, the Felix Meritis retained its first-class spot in the city's collective consciousness. That was down to said history, but also the hosting of Instagram-friendly temporary guerilla projects, such as pop-up restaurants Foyer and Staets, and design boutique the Frame Store (by the namesake publisher, and also designed by i29).

With the building about to throw open its doors to the public, these now seem like a mere taster of what was to come. For Jeroen Dellensen, one of the two founders of the Dutch interiors studio, taking on the renovation project was as much a creative challenge, as an exercise in logistics and preservation rules and restrictions. Yet the practice achieved a careful and elegant composition of old and new, arranging a harmonious variety of leisure, cultural and commercial spaces in the building's generous halls.

Upon entering, to eat, turn left for Felix, where a finger-licking three- to seven-course surprise meal delights the senses. Key ingredients in this eaterie are seasonal Dutch products, paired with boutique wines, and a confident spritz of curiosity. For last minute tickets, give way to the right, and walk into a modern interpretation of an 18th-century style room dressed in blues and greens. A bespoke, clean, rectangular-shaped chandelier visually connects this lobby space and the restaurant. A separate area off here offers the option of a more bistro, outdoors-style environment for socialising, complete with stone pavement and greenery.
Up an impressive, original wooden staircase is the publicly accessible Huslylounge, a flexible event space and breakout area for events in other rooms, set on one of the higher floors. Once a former office space for the political party CPN, it's now transformed into a vivid 'garden room' where yellows and gold set the tone. Elsewhere, the oval-shaped Shaffyzaal, named after the French-Dutch singer Ramses Shaffy, pops a whole other bottle. Gradients on the walls give this mutli-functional space a playful edge, 'although it's perfectly apt for corporate events,' Dellensen makes sure to add.

However, the Zuilenzaal is probably the most significant part, in order to understand the great job i29 did here. Seemingly simple and relatively pared down, the room – used for concerts and other events – is handsome with a clear historical twist dominating its decor; yet it is completely prepared for the future, with all necessary invisible technology, lighting and installations integrated.

'Dealing with a listed building comes with a whole different set of challenges and regulations,' says Dellensen, explaining that any design intervention needed external approval, and was only allowed when in concordance with the past interior elements. Take the custom developed textile wall covering in the ground-floor restaurant for example. The work, created together with local studio Buro Belén, is a wall-to-ceiling 21st century interpretation of the Dutch sky; a perfect symbol of this timeless and iconic setting.
INFORMATION
i29.nl (opens in new tab)