The Haçienda nightclub voted one of the UK's top historic sites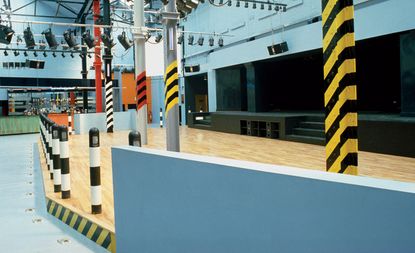 (Image credit: press)
In the history of nightclub design there are two pulsating neon beacons of hedonism that shine on despite their demise – New York's Studio 54 and Manchester's The Haçienda. The latter's importance in British culture has received an unlikely endorsement from Historic England as part of its celebratory campaign A History of England in 100 Places.

The legendary club, which opened in 1982 but peaked during the Madchester and rave years of the late 80s and early 90s, has been chosen as one of the ten historic places for music and literature. The list was voted for by the public and selected by novelist (and fan of the club) Monica Ali. Fellow nominees in the list include more traditional destinations such as the homes of literary greats Charles Dickens, the Brontë sisters and Jane Austen. The only other music venues listed are The 100 Club and Abbey Road Studios.

The Haçienda was the brainchild of Factory Records and in particular New Order who were influenced by the New York club scene. Orchestrated by Peter Saville, the design director of the label at the time, he pulled in designer Ben Kelly, with whom he'd already worked with on various album sleeves, to overhaul a disused canalside warehouse in Manchester. Kelly created a post-industrial interior full of factory references – such as bollards and the now iconic hazard stripes.
'I was very surprised,' Kelly said of the news, 'but it just proves The Haçienda will never die. The list is a great idea and it's mind blowing being in the company of Abbey Road, Handel and Hendrix, you don't get much better than that. Apparently Monica Ali used to go and was a fan, that's the kind of effect The Haçienda had on people, a week doesn't go by when something comes up related to the club.'

Looking back both Saville and Kelly credit the idealism of Factory Records and the freedom of self-expression granted by the label above "any commercial objective" as key to their success. Kelly believes its brilliance lay in their rookie approach. 'It was both Factory Records and my first nightclub so it had that fantastic naïveté in its favour.' His hybrid format, which placed the stage to the side rather than one end, meant it thrived as both music venue and club. This changed the nightclub genre and in time pioneered the UK's halcyon days of clubbing; propelling that heady crossover between Indie and Dance music which climaxed with the second summer of love in 1988.

And although it may have closed in 1997, under a cloud of shootings and financial troubles, The Haçienda has been formally credited with kicking off the city's regeneration. 'When I used to visit Manchester pre-Haçienda I felt it was in monochrome, but the club changed everything, suddenly it was like a colour switch went on,' recalls Kelly.
The site may now be home to luxury warehouse flats, but its influence continues to reverberate. Most high profile perhaps is Virgil Abloh, who riffed off the hazard stripes for his Off-White luxury athleisure label, something that was brought to Kelly's attention by friends. 'I thought what cheeky f**ker is doing this, but then we spoke and really got on and went on to collaborate for Design Miami 2016.' Together they created a homage to the club in the form of a touring mobile club unit which Kelly dubbed 'Off Set', this went on to feature in exhibitions in Liverpool and London and led to the Ruin installation at 180 The Strand.

So Saville's grand claims when he wrote about the project in 2002 seem remarkably prescient now: 'This building has, I think, had a greater aesthetic influence than some of the higher art of architecture. It seems extraordinary to think now about how strange this building seemed in 1981, and how the post-industrial aesthetic has been adopted totally by our culture.'
Asked what he thought of the Historic England poll, Saville said, 'it is important to recognize that in its independence The Haçienda was "of the people, for the people", it was a place they took to their hearts, it was their Haçienda.'
INFORMATION
For more information, visit the Ben Kelly Design website