The 1926 Frankfurter Kuche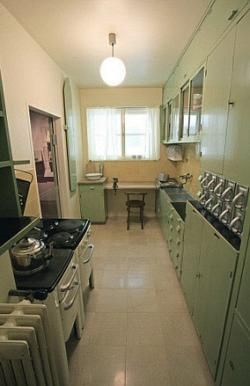 (Image credit: press)
Measuring a meager 1.9m x 3.4m, and inspired by the compact kitchen facilities of the luxury modern railcar, Lihotsky invented the first mass-produced fitted kitchen, and the world has never looked back.
Marxist, feminist, architect and activist, Margarete Schütte-Lihotsky was always used to making an impact. But when she first dreamt up the Frankfurter Küche (Frankfurt kitchen) in 1926, even she couldn't have known the influence it would go on to have. Measuring a meager 1.9m x 3.4m, and inspired by the compact kitchen facilities of the luxury modern railcar, Lihotsky had invented the first mass-produced fitted kitchen, and the world has never looked back.
Eighty-five years on, lifestyles and priorities have changed dramatically and the humble kitchen cabinet today is transformed with modern technology and meticulous detailing. Today's smart, gliding doors open onto entirely new horizons of promise and produce. At the risk of compounding a cliché (or two), if the Frankfurter was the mother of all kitchens, then the apples haven't fallen far from the tree – Germany is still the leading land when it comes to über efficiency and innovation in this domestic domain.
At the 2011 imm furniture fair in Cologne (the very place where the Frankfurt kitchen was first launched) a Teutonic host of contemporary manufacturers dazzled with a world of new mechanisms and materials at a new trade event called 'Living Kitchen'.. Super surfaces and capable curves now bring what was once a simple functional space into the centre of 21st century living and prove that the kitsch is also out of the kitchen for good.
Amazingly, there is much that today's manufacturers have to thank Lihotsky for. A rare woman modernist, with proven experience in social housing, she was brought on board when Frankfurt's chief architect Ernst May launched an ambitious initiative to address the enormous post-war housing deficit in the city almost a century ago. The task was the creation of new 'minimum dwellings', small and highly rationalised machines for living in, where space and budget constraints forced radical innovation. Lihotsky's job was to look after the kitchen.
Nothing was unconsidered in the Frankfurt kitchen, every cubic millimeter precision planned. Carrying out detailed time-motion studies to optimize 'workflow' as if it were a (albeit miniature) factory, Lihotsky measured how long it took to do certain tasks, duly adjusting and readjusting the prototypes along the way, and prioritising contemporary ideas about efficiency and hygiene alongside feedback from the housewives and women's groups she personally grilled for information. High up on the agenda too were the theories of Scientific Management, by Frederick Winslow Taylor, to maximize domestic efficiency, and of course Henry Ford's call to mass production.
The result was a table-free galley space, featuring sitting-height countertops, and all mod cons including a swivel stool, gas stove, a fold-out ironing board, and an adjustable ceiling light. Built in storage in the fitted Frankfurt kitchen included an easy-to-reach spice rack and oak flour containers. Natty aluminum drawers for dry goods such as sugar and rice allowed you to pull them out and pour the necessary quantity in one swift efficient arm movement.
Fitted kitchens did in fact exist at the time, but Lihotsky's was the first to be mass produced, and certainly on such a scale: Some 10,000 were installed. Reactions at the time were mixed, and largely critical, which is unsurprising considering the concept was so unlike what anyone was used to in a domestic setting. A typical European kitchen at the time was big and filled with big, standalone items of furniture it had evolved in a labour-intense environment. This pokey production zone with space for only one 'worker' to move comfortably was going to take getting used to.
Fast forward to the contemporary designs and it becomes apparent that the fitted kitchen is undergoing a new revolution, merging once more with living spaces as flexibility and good looks take precedence. What hasn't changed at all though, is the German aptitude for precision planning and engineering. These qualities expressed in 'made in Germany' manufacturing are still a source of national pride and it shows.
Just like Lihotsky, kitchen manufacturers today see a task-oriented space, but the best contemporary models allow for craft and creativity at a masterchef level. Equipment too must live up to professional standards. Those in the market for a fitted kitchen today are also looking at architectural tailoring so seamless that it's no longer entirely clear where the dividing line between the kitchen and the rest of the home lies. If there even is one anymore. Technology, units and islands blend into the structure of the space – look, no handles; listen, no rumbling appliances. As kitchen and living space become increasingly fused, designers are better able cater to the complex and variable needs of the postmodern consumer – today's storage unit might just as well play home to a showpiece objet d'art as a handy jar of deli-fresh sauerkraut.
Reactions at the time were mixed, and largely critical, which is unsurprising considering the concept was so unlike what anyone was used to in a domestic setting. A typical European kitchen at the time was big and filled with big, standalone items of furniture it had evolved in a labour-intense environment. This pokey production zone with space for only one 'worker' to move comfortably was going to take getting used to. Here's a replica of the Frankfurt Kitchen installed at MAK, Vienna
There is much that today's manufacturers have to thank Lihotsky for. A rare woman modernist, with proven experience in social housing, she was brought on board when Frankfurt's chief architect Ernst May launched an ambitious initiative to address the enormous post-war housing deficit in the city almost a century ago
Fast forward to the contemporary designs and it becomes apparent that the fitted kitchen is undergoing a new revolution, with Germany still at the heart. Here's our pick of the very finest, starting with the 'B3' kitchen by Bulthaup
Photography Reinhard Hunger