Thabisa Mjo and Mash.T unveil sculptural brass lighting
New brass lighting by South African designer Thabisa Mjo, founder of design studio Mash.T, brings a contemporary edge to a traditional material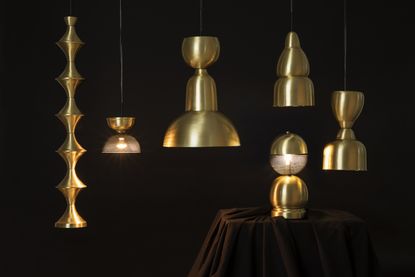 (Image credit: Thabisa Mjo)
When Thabisa Mjo released her 'Tutu' lights in 2015, there was something effervescent about the design. The shape – inspired by a Xibelani skirt worn by Xitsonga women of South Africa – was as magnificent as an haute couture dress.
More than just a home product, the 'Tutu' light became a piece of art; it was acquired by the Musée Des Arts Décoratifs in Paris as well as being voted the Most Beautiful Object in South Africa by a public vote at Design Indaba in 2018.
'Brazzo' brass lighting
Mjo's latest product collection, titled 'Brazzo' and launched by her design studio Mash.T, comprises six brass lighting designs. 'My inspiration has always been about my lived experiences of culture and heritage,' says the designer. 'So this year, I told myself I wanted to create shapes using brass, because I think of brass as elegant [but] antique. I wanted to make something [considered] old into [something] contemporary that could be relevant, young, funky, cool and still have a refined elegance.'
Mjo took inspiration from the concept of Lego building blocks, how they could appear independently but when manipulated, could make up an interesting shape. So she sat in her factory thinking of shapes and the possibilities of using existing shapes to invent a new shape. The 'Brazzo' collection consists of five pendant lamps and a table lamp. The designer's particular favourites are the 'Mesh' table lamp and the 'Mon' pendant, because each has a black mesh steel component, which makes them more edgy, cooler.
'Initially we tried using perforated brass, but every time we tried to manipulate it to take that beautiful round form, it kept breaking,' says Mjo. 'So the mesh steel was used out of necessity. And it just happened to work even better than the perforated brass would have.'
Thabisa Mjo and Mash.T
Since her early success, Mjo has established herself as one of South Africa's leading designers. She graduated from the South African School of Motion Picture Medium and Live Performance, where she majored in production design. She pursued a career in the film industry, until it occurred to her that she wanted to create something spectacular for the real world. 'I wanted to create spaces that people in the real world could interact with, because creating spaces for TV and adverts was a very short-term thing; we would shoot the movie and TV shows and it would just be over, while people in the real world didn't interact with these spaces. I wanted to make things that could live with people or things people can live in,' she recalls. She didn't just want to create, she also wanted to tell stories – and design was the only way to do so.
Mjo founded Mash.T in 2013, immediately after graduating from Inscape design college in Cape Town, where she studied interior design and architectural drawing. She spent the better part of the first two years trying to discover what she did best, who her audience was, and what service she'd provide them with, until late 2015, when she transitioned into product designing.
Traditional craft, contemporary designs
At Mash.T, African arts tools are employed to tell contemporary African stories – lamps feature Xhosa motifs, side tables are handwoven with ilala palms, pendant lights are made of beads.
The brand's production centres on craftsmanship and collaboration. 'Creating a new design aesthetic requires collaboration with other designers and crafters that share the same values, which are about taking traditional craft, repackaging it, working with crafters to challenge them to use their age-old techniques that have been passed from generation to generation,' Mjo tells Wallpaper*.
Collaborators include artisanal brands such as Alfred Ntuli, resulting in the 'Alfred' lights; Qaqambile Bead Studio, producing beaded lighting designs; and Beauty Ngxongo, to create the 'Hlabisa' bench. Mash.T is also keen to collaborate with artisans outside of South Africa and across the continent.
A shift in focus
INFORMATION