Debunking Belgian textiles clichés in New York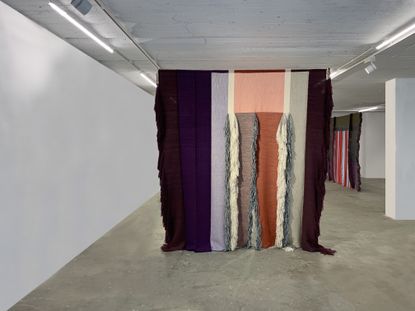 (Image credit: BedrossianServaes)
When it comes to the Belgian textile tradition, clichés abound. But look past the Flemish tapestries, Brussels lace and Belgian linen, and you will find a fascinating scene of individual weavers that have built contemporary artistic practices since the post-war years.

'Textiles Revealed', an exhibition curated by the trend forecaster Lidewij Edelkoort and her assistant director at Trend Union, Philip Fimmano, is set to renew the perspective of New York collectors, decorators and interested consumers on the multiplicity of Belgian textile design.

As part of New York Textile Month, 'Textiles Revealed' is embedded in a larger mission to raise awareness on textiles. Seemingly contradictory developments have taken place with regards to the appreciation of woven fabric. 'Many heritage mills [have closed] over the past two decades', begins Edelkoort. Simultaneously, 'textiles have always been central to both the fashion and interior industries. In recent times we've seen an increased interest in fiber, from consumers who wish to know exactly what they're wearing, to the international art fairs that have put textiles front and center'.
Edelkoort detects a human need in this shift, a 'need for paramount tactility at a time when the digital age has starved our fingertips', but she also sees the change as 'a reaction against the minimal 90s, when most textiles were removed from homes'. Edelkoort judges, that 'minimalism today is redefined by warmth, and that includes lots of fabric.'

In a way, 'Textiles Revealed' picks up where artistic circles in Belgium practicing textile art left off. In the 1970s and 1980s, a wave of feminist, post-minimalist and fiber artists made an indelible mark on the art world.

The contemporary pieces that make up 'Textiles Revealed' 'form part of the timeline', states Fimmano: 'this generation reconsiders the female model in a post #MeToo climate, and reinterprets historical contexts at a time when history itself is being turned upside down. What's new is a frequent focus on ethics, sustainability and recycling; valuing our resources enough to respect their energy and give them new life.'
Textile has the unique ability to transmit the individuality of the craftsperson. In 'Textiles Revealed', the selection of artists makes that clearly observable. 'Like most contemporary designers, they create hybrids between craft and technology while exploring new processes or techniques, from oxidisation to digital jacquard weaving. They each tell stories through their work, be it fantastical narrative reverie or addressing more serious ecological issues', tells Fimmano.

In the Chelsea space's sunlit front gallery, a research-driven and experimental work by BedrossianServaes opens the exhibition with a panel installation of architectural proportions. The second gallery houses, amongst others, work by Alice Leens, which frees the thread from its utilitarian role, thereby encouraging the viewer to rediscover the beauty of the banal. Lively and chunky hand-knotted rugs by Christoph Hefti, who uses traditional crafts to tell mystical and spiritual stories with great expressiveness, and work by KRJST Studio, whose dramatic tapestries merge tradition with technology in complex and beautiful tableaux, are also on show.

'Textiles Revealed' is an eye-opening presentation that might just add that much-needed warmth. 'Like most New Yorkers, we're all fatigued by politics, the media and the planet's on-going ecological disasters,' says Fimmano. 'In need of an emotional lift, we hope the exhibition can inspire joy and optimism for the audience through beauty.'
INFORMATION
'Textiles Revealed' is on view from 26 September – 3 October. unixgallery.com (opens in new tab); belgiumdesign.be (opens in new tab)