Contemporary artists find a common thread with 1970s and 1980s Belgian textile art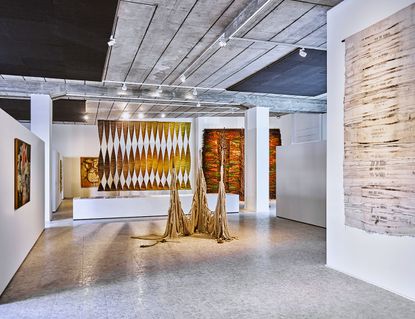 (Image credit: Stany Derderen. © MoMu Antwerp)
Wallpaper* Newsletter
Receive our daily digest of inspiration, escapism and design stories from around the world direct to your inbox
Thank you for signing up to Wallpaper. You will receive a verification email shortly.
There was a problem. Please refresh the page and try again.
'Women artists', says Elisa De Wyngaert with a sense for understatement, 'have not had a very privileged position in the art world.' What with textiles having female, domestic and quotidian connotations, much of the art form has been undervalued greatly. And still, textiles are crucial in how we understand culture; they function as a universal means of communication.

De Wyngaert has curated 'Soft? Tactile Dialogues', an exhibition staged by Antwerp's fashion museum MoMu – and the very first one, in the museum's 16-year history, to focus on textiles instead of fashion. Located on the first floor and in the monumental modernist staircase of the Maurice Verbaet Center, the exhibition ties in seamlessly with that private art collection's mission: to bring attention to under-appreciated Belgian post-war art.

Most of the works on display, from 1970s feminist, post-minimalist and fiber art to contemporary work, match the monumentality of the Maurice Verbaet building. An immense power and presence emanates from the experimental work Alruin, by Veerle Dupont, who used tar ropes from the harbour for a large-scale abstract and experimental work that, aside from its tactility, also activates the sense of smell. Dupont does not shy away from working with pig bladders and horse's tails, too, subverting the idea that textile art is for the delicate.
In Edith Van Driessche's work Use No Hooks, packing cloths are repurposed to create a narrative, a secret history. Several 'soft sculptures' by Maria Kowalski – a Polish artist and political refugee in Belgium – engage with the viewer through their spatial dimensions. Worked under the pseudonym Tapta, her pieces Structure Torsadée, from 1973, and Horizon Flexible, from 1976, are three-dimensional installations that incorporate natural fibres like sisal, which Tapta learned to work with in the Congo.

The contemporary textile artworks that are spread over the entrance hall and the staircase's eight landings show how artists' relationships with textile have evolved. Unlike the aforementioned first generation, artists such as Kati Heck, Nel Aerts, Sven 't Jolle and Klaas Rommelaere are not tied to the dogmatic thinking that has for so long restricted textile artists in terms of interpretative breadth and reach.

The current generation often works with a variation of media and uses textile to express themselves without the proverbial hang-ups. From humorous and figurative, to abstract experimentation, it's hard to imagine a contemporary art world that does not integrate textiles in some way – its tactile qualities a rewarding tool to communicate concepts such as intimacy, social criticism, and alienation.
INFORMATION
'Soft? Tactile Dialogues' is on view until 24 February 2019. For more information, visit the MoMu website
ADDRESS
Maurice Verbaet Center
Mechelsesteenweg 64A
2018 Antwerp
Receive our daily digest of inspiration, escapism and design stories from around the world direct to your inbox