Textile test: four designers rethink Alcantara at IMM Cologne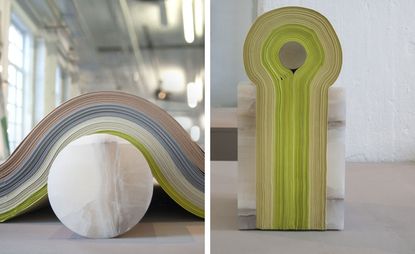 (Image credit: press)
Pushing boundaries in textiles, Alcantara's hi-tech and uniquely innovative qualities make it a candidate for serious design experimentation. The Italian material experts devised a new challenge for IMM Cologne, inviting four designers to test Alcantara in an installation entitled 'Touching Tales'.

Over the years, Alcantara has been the go-to material for durability in everything from the textile components of yachts to fashion collections, with options in thicknesses, colours and textures making it pioneeringly functional. With 'Touching Tales', the material underwent an artistic transformation, presented in a variety of different installations that assessed its resilience, colour and technological abilities. 'We asked talented young artists to interpret Alcantara, firmly believing that a dialogue with the creative avant-garde is doubly stimulating,' explains Andrea Boragno, chairman and CEO of Alcantara S.p.A.

Ranging in scales, each of the designer's installations were dotted around the exhibition halls. Chilean-Swedish artist Anton Alvarez played with Alcantara's colour ranges, creating what appeared to be large quilted playground toys in his whimsical style, entitled New Skids on the Block. The pillars utilise soft Alcantara, mixing it with foam, wood and aluminium to form flexible furniture. Danish designer Henrik Vibskov, on the other hand, opted to create an interactive experience in green, conceiving 15 motorised Alcantara-made cones hanging from the ceiling and moving up and down into a pool of water, forming peaceful droplets.

Highlights came from Moritz Waldemeyer and Formafantasma. Working with an Alcantara variant, the British-German lighting engineer Waldemeyer enhanced the already long lasting quality of the material. Harnessing a black and metallic iteration of Alcantara, he introduced an additional layer of film to form a perforated, extra enduring textile lighting piece.

Formafantasma, meanwhile, tested Alcantara's durability in an installation called Strata. Comprising Italian duo Andrea Trimarchi and Simone Farresin, the studio has often used textiles as a starting point for its works. For Strata, the duo paired the soft material with glass, marble and metal, repositioning Alcantara as solid matter. Wrapped around these hard elements multiple times, the folds create subtle colour gradients and patterns. As an extra, they even created a belt out of the material to further accentuate the strength of this englessly ingenious resource.
INFORMATION
For more information, visit Alcantara's website (opens in new tab)