Station to station: E&Y and Yuri Suzuki collaborate on 'Tube Map Radio'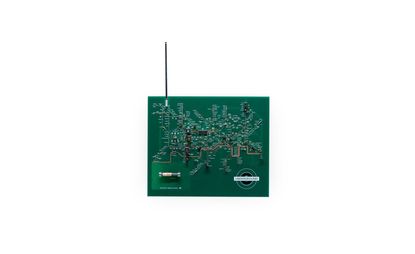 (Image credit: Yuri Suzuki )
Tokyo-based design firm E&Y's 'Tube Map Radio' – a collaboration with the Japanese designer Yuri Suzuki – attempts to bridge the gap between the ever increasing complexities of modern technology and the needs of its users. The radio is devoid of any casing, so the operator has to interact directly with the exposed circuit board which, as the name indicates, is inspired by Harry Beck's original 1933 London Tube map. Fittingly, Beck – a technical draughtsman – initially had the idea for his map when working on a circuit diagram, but it was Suzuki who came up with the idea of turning the tube lines into conductive tracks and stations into circuit vias and other components necessary to building a simple FM/AM radio.

Thus, an antenna extends from the Metropolitan Line's Watford station, the tuner dial can be found on the Central Line at White City and the volume control is located at Liverpool Street station; charmingly, a speaker is installed near Marble Arch (at Speaker's Corner, natch) and a battery represents Battersea Power Station.

Suzuki originally came up with the idea for a commission by the London Design Museum (where he was designer in residence in 2012). He wanted to make consumer electronics more comprehensible; printed circuit boards used to be rather simple affairs but with today's electronic 'black-boxes' it is hard to get one's head around what goes on inside an iPad or laptop. By bringing the components into the open and using the familiar Tube map as the conductor, Suzuki and E&Y hope to dispel some of the complexities of the electronics and them more accessible. We also think it would look great on any wall.