Salon Art + Design enters cosmic and dramatic realms
Exhibitors to look out for at Salon Art + Design (14-18 November) at New York's Park Avenue Armory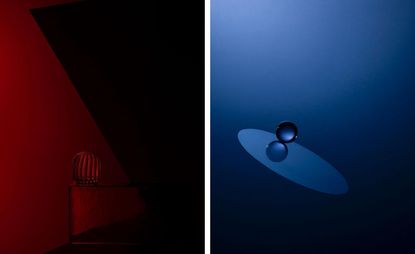 (Image credit: TBC)
Soon, New York's Park Avenue Armory will again abound with pieces of design and works of fine art, curated by 56 international galleries this year for the eighth edition of Salon Art + Design. The fair offers a highly contextual premise of a considered mixing and matching of vintage, modern and contemporary objects with a thread between tradition and experimentation. Below, we select a handful of highlights that progress this aesthetic, including local talent, first time showcases and more.
Friedman Benda
Friedman Benda's drawing room setting, designed by Leila Arruda, will reflect Salon's mission of mirroring the way people approach the decorative aspects of their homes today: with attention to craft and a juxtaposition of textures. For this showcase, Israeli designer Raphael Navot has created an oak console of fluid, sober lines, titled Aleatoric (pictured). Jonathan Trayte's playfully bronze painted corn, pear and lemon and Chris Schanck's idiosyncratic upholstered shell chairs – amongst other pieces – add colour and drama to the scene.
Casati Gallery
Drawing from past exponents of Italian design, Casati Gallery was inspired by the 1994 Guggenheim Museum exhibition 'The Italian Metamorphosis, 1943-1968' for its exhibition. The Chicago-based gallery takes an architectural drawing of the exhibition by architect Gae Aulenti as a starting point, to paint a wider picture of the visual culture of Italy in the postwar era, showcasing furniture by Franco Albini, Carol Rama, Carlo Mollino and Studio BBPR.
Galerie BSL
Probing the blurred boundaries between design and sculpture into ever more whimsical territory, Paris-based Galerie BSL presents Pia Maria Raeder's new STARDUST collection comprising of a four-seater bench, two-seater benches and a mirror. The German artist often borrows from nature's organic forms to create her otherworldly yet functional pieces, and for this collection she utilises hand-carved beechwood elements coated with silver-based metal and waxed concrete.
Mathieu Lehanneur
Amid the bustle of the Salon, French designer Mathieu Lehanneur has created a place of refuge. His 'Soldier's Retreat' installation within the historic Colonel's Room, is 'a space absolutely isolated from the turmoil of the world', he says, 'like peace found after the battlefields.' Here, shown together with his new collection 'Inverted Gravity,' pieces that radiate stillness and lightness, like his cloud-shaped Familyscape couch and a green marble console anchored by wide column-like legs, merge human history with natural history in Lehanneur's signature visually poetic style.
Apparatus – Library Room
Whether it's throwing a decadent party or the ingenious lighting inside its showrooms, Manhattan-based design studio Apparatus turns heads with its opulent, detail-driven and narrative aesthetic. For Salon, the studio – founded by Gabriel Hendifar and Jeremy Anderson – presents its desirable world through the Interlude collection – furnishings that wouldn't look out of place in a modernist music hall. The decorative yet measured approach of the studio will come to life through pieces like the hand-embroidered hanging lamp and a cabinet made of eel and brass.
Wonderglass
For WonderGlass' Salon debut, the London-based gallery asked artistic duo J&PEG to create a site-specific installation. 'Dark matter' is composed of artificial spaces in which visitors can explore mankind's relationship to the universe and unravel its mysteries. The glass pieces studiopluz, Gwenael Nicolas / Curiosity and photographic prints by J&PEG create a cosmic architecture that filters light and shadow, and blends together colours and geometries at the edge of the unexplored.
INFORMATION
thesalonny.com (opens in new tab)
ADDRESS
447 W 24th St
New York, NY
10011