Russell Bell (1958 – 2022), an appreciation
We remember illustrator Russell Bell, whose artistry helped define the Wallpaper* aesthetic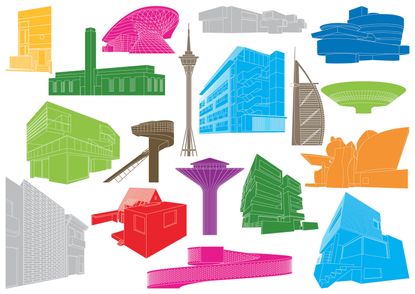 (Image credit: illustrations by Russell Bell)
Few illustrators can claim to have had as much impact on the aesthetic of Wallpaper* as Russell Bell, who died at the end of March, after a short battle with cancer. Bell's purist, clean-lined approach lent authority to every subject he tackled, from architecture to future technology.
His meticulous maps were a staple feature of the magazine's Navigator city views, his illustrations were at the heart of many articles, and his work was much in demand from everyone from developers to architects.
Bell's maps updated the splendour and artistry of early cartography with the meticulous clarity of digital methods, creating illustrations that were intricate works of art as well as accurate sources of information.
You could offer up any cartographic brief to Bell and he would transform it into a landscape that begged for further investigation; his cycling map of Richard Rogers' London buildings commissioned for the architect's 80th birthday is a classic case in point.
Bell was perpetually on our art director's speed dial, especially when we needed a complicated subject transformed into a deceptively simple graphic. He exploded axonometrics, brought futuristic concepts to life, and gave order to the world's great cities. Above all, Bell's work helped bolster Wallpaper's burgeoning reputation in the design industry.

Tony Chambers, whose Wallpaper* career spanned 2003 to 2018, including four years as creative director and 11 as editor-in-chief, recalls Bell as 'one of the finest visual communicators – and human beings – I've had the pleasure to know. Russell's signature work for Wallpaper* was one of the key foundation stones of the magazine's success. Like the work, his modesty and quiet demeanour belied a sophistication and technical rigour that remains unrivalled.'
As well as Wallpaper* and other magazines, including The New York Times Magazine, Bell worked closely with some of the leading creative agencies of the age, Pentagram among them. A long-time resident of London's Barbican Centre, he drew on his appreciation of London's modern architectural culture and historical legacy in many of his works.
Bell also had a longstanding fascination with transportation design, and his crisp renderings of cars, planes, and trains lent a sheen of technical authenticity to entertainingly flippant items like Monocle's 'Me and my Motorcade' series. In 2008, he designed a food truck for Wallpaper*, a commission that involved researching all manner of eclectic vehicles. He also ventured into typeface design and helped shape graphic identities for the likes of Adidas, Microsoft, American Express, as well as a number of major museums.
It's worth noting that Bell's skill was not at all dependent on the use of computers. Some of his earliest works, like the iconic axonometric image of the Empire State Building – still a popular poster – were entirely created with traditional analogue means, a technical pen and a set square. The skyscraper drawing alone took him a year to complete. The arrival of the computer might have sped things up (helpful given Wallpaper's relentless deadlines), but ultimately it was simply another tool, one that helped Bell render the crisp perfection that became his trademark. Dominic Murray-Bell, Wallpaper's art director, describes Bell as a 'truly unique illustrator in a world where image making is so often about what's "trendy". His technical ability and attention to detail coupled with a clean, modern aesthetic made his work timeless and beautiful.'
Bell is survived by his partner, Melissa Price, and their daughter. Price, a senior graphic designer at Cartlidge Levene, shared Bell's love of maps, graphic art and the elegant presentation of information. Here at Wallpaper*, we'll forever miss the strength of his vision and the precision of his line.
Jonathan Bell has written for Wallpaper* magazine since 1999, covering everything from architecture and transport design to books, tech and graphic design. He is now the magazine's Transport and Technology Editor. Jonathan has written and edited 15 books, including Concept Car Design, 21st Century House, and The New Modern House. He is also the host of Wallpaper's first podcast.