Post-War Plastics, Vitsoe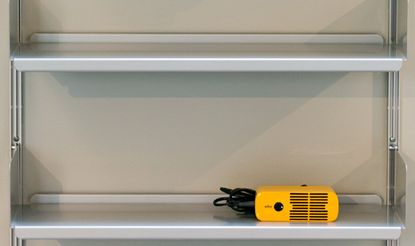 (Image credit: TBC)
From computers to food wrapping and iPods to cars, plastic has become such an integral part of our daily lives that it's impossible to imagine life without it. And equally impossible to imagine is that just fifty years ago, plastic was revolutionary; brushed with the aura of a fantastical Jetsons-tinted future.
Click here (opens in new tab) to see more.
It's perhaps timely then that Vitsoe are staging a retrospective of Dieter Rams's work to coincide with the Victoria and Albert Museum's exhibition 'Cold War Modern: Design 1945-1970'.
The German designer's collaboration with Vitsoe is one of the design world's most celebrated partnerships. Plastic, in particular, proved to be the perfect material with which Rams could articulate his disciplined philosophy of shearing away all design flourishes till only the unobtrusive essence of the product – glossy and smooth to the touch – remained. Without question, the resulting range of beautifully modular and aesthetically light designs has influenced every single generation of industrial designers since.
On show is a symphony of 10 plastic Rams designs – the 601/602 chair, 610 wall panel system, 620 chair programme, 621 table, 622 dining chair, 680 daybed, 681 lounge chair, 720 table, and 740 stacking programme – together with five (plastic) Braun products.
The exhibition is Vitsoe's opportunity, in the context of the V&A's broader mission, to showcase its innovative chops. This is especially pertinent given that both Rams and Vitsoe began working with plastic in the 1960s when it was still experimental and it seemed to make so little commercial sense to produce anything with such an expensive material.
Mark Adams, Vitsoe's managing director, says these pieces represent an exciting time in the company's history 'because of the flexibility in moulding shapes.'
Of the ten Vitsoe pieces on display, only the 620 chair programme is still in production; the rest became early victims of plastic's cost. Looking back, it's clear that these early pieces were ahead of their time. Says Adams, 'Vitsoe began working with plastic production furniture very early when plastic was not yet a wanted material. It was not deemed a sympathetic material. Producing high-quality, well-designed furniture was at odds with the perception of plastic as a material. Customers were not ready for plastic furniture.'
And now, in an era dominated by the likes of Jasper Morrison and Philippe Starck, it is clear this attitude has changed, but whether this means we might soon see new releases of these Rams' classics remains tantalizingly unclear. Vitsoe, suitably coy, will only say, 'Watch this space'.
ADDRESS
Vitsoe
72 Wigmore Street
London W1U 2SG
VIEW GOOGLE MAPS (opens in new tab)