Poltrona Frau unveils outdoor furniture for 'boundless living'
New Poltrona Frau outdoor furniture collection – by Roberto Lazzeroni, Ludovica and Roberto Palomba, and Kensaku Oshiro – explores a fresh approach to the home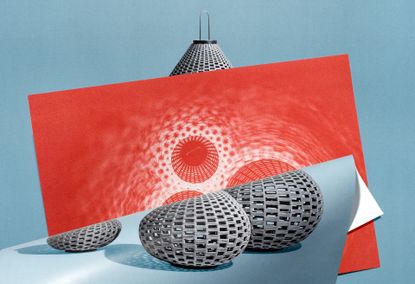 (Image credit: Studio Likeness)
'Homes have become our lives: traditional boundaries between private and public, indoor and outdoor have become less and less defined,' says Poltrona Frau CEO Nicola Coropulis, as the Italian furniture company unveils its inaugural outdoor furniture collection at Salone del Mobile 2021 (opens in new tab), with furniture and lighting by Roberto Lazzeroni, Ludovica and Roberto Palomba (two design studios that have contributed to the company's identity over the past ten years) and new collaborator, Japanese designer Kensaku Oshiro. Titled 'Boundless Living', the collection explores how the domestic setting evolved during the pandemic.
Poltrona Frau outdoor furniture by Roberto Lazzeroni, and Ludovica and Roberto Palomba
The two outdoor furniture collections by Roberto Lazzeroni and Ludovica and Roberto Palomba create the basis for the 'Boundless Living' concept. 'Poltrona Frau delivers a type of luxury that cannot be limited in any way,' says Coropulis. 'Hence our interpretation of Boundless Living, which is not just about functional, borderless living, but about interpreting space in a personal way.'
Among the collection's centrepieces is Lazzeroni's ceramic-topped dining table, part of his 'Secret Garden' collection, which expands on the themes of dining and relaxation. The table's teak structure is enriched by the white and blue graphic motifs of the ceramic top, whose design nods to the Mediterranean.
Ludovica and Roberto Palomba created the 'Solaria' collection, a sofa system characterised by a stainless steel frame and distinctive woven back. Like all of Poltrona Frau's pieces, the seats are defined by the sobriety of their forms and quality of craftsmanship to convey a sense of harmony. Comfort takes centre stage, with well-considered proportions and accessories that inspire personalisation.
Outdoor lanterns by Kensaku Oshiro
The Milan-based Japanese designer Kensaku Oshiro has created a family of portable and rechargeable lanterns. The eye-catching designs, called 'Sparkler', come in all shapes and sizes (including table, floor and standing versions), all with a practical horseshoe-shaped handle. 'We invited Kensaku to create a product for us that could break boundaries between outdoor and indoor, and would be portable, sophisticated and elegant,' says Coropulis. 'Lighting always makes the difference in creating the right atmosphere.'
Oshiro's design takes its cues both from the traditional amphoras and wineskins of his adoptive country, where they still adorn many gardens, but also from the organic modernism and traditional rice paper lamps of his home country. More specifically, Oshiro found inspiration in a particular childhood memory: 'In Japan, there is a custom of gathering outdoors on summer evenings and enjoying fireworks together,' he explains. 'When I was a child, I remember watching, enchanted, the magic of senkō hanabi, or sparklers, which are small fireworks that you hold in your hand and which, when burned, generate an incandescent ball that spreads delicate sparks all around. As fascinating as it is transient, it brings back memories of time spent with friends and family.'
They might be inspired by the Far East, but rather than bamboo or rattan, the lanterns are made using taupe polypropylene cords, which are hand-woven and installed on an aluminium frame powder-coated in Basalt paint. They are light enough to be easily transportable, as well as weatherproof and statuesque enough to transform the simplest of outdoor spaces. Their effect is obvious both during daytime and night-time: illuminated by the sun, they create ever-changing chiaroscuro effects; while in the evenings, they surround the outdoor space with a warm, intimate light that casts hypnotic shadows on the ground.
INFORMATION
poltronafrau.com (opens in new tab)
Léa Teuscher is a Sub-Editor at Wallpaper*. A former travel writer and production editor, she joined the magazine over a decade ago, and has been sprucing up copy and attempting to write clever headlines ever since. Having spent her childhood hopping between continents and cultures, she's a fan of all things travel, art and architecture. She has written three Wallpaper* City Guides on Geneva, Strasbourg and Basel.
With contributions from