Shrink kit: Danish designers are thinking big and building small
Danish designers are thinking big and building small for a new exhibition at Maison du Danemark in Paris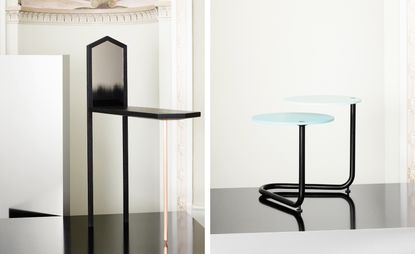 (Image credit: press)
Size matters at 'Petit', a new exhibition opened last week at the Maison du Danemark in Paris. Members of The Cabinetmakers' Autumn Exhibition were tasked with creating furniture no wider or taller than 60 centimetres for the show, resulting in a small but elegantly formed collection by the likes of Norm Architects, TAF, Space Copenhagen and more.

The nomadic exhibition began its journey last September on the outskirts of Copenhagen at the Øregaard Museum in Hellerup. The Danish museum, conceived by architect Joseph-Jacques Rameè originally as a summerhouse for the wealthy Søbøtker family, served as inspiration for the exhibition's theme, as well as the French word petite.

Tina Sommer and Marie Berri's slender 'Doublé' console, an optically charged piece spliced in half with a mirror, takes it cues from the Øregaard Museum's symmetrical architecture. Monique Engelund, meanwhile, was spurred by an experience at the museum during sunrise for her 'Rise & Shine' vanity table, and Ditte Hammerstrøm responded to the brief with a miniature, pastel-pink cabinet seemingly plucked from a Wes Anderson film.

Elsewhere at the show, Stockholm-based studio TAF dished up a svelte tray-table; Jeremy Walton opted for a downsized reimagining of Bagatelle, a billiards-derived indoor table game with roots in French aristocracy; and Danish firm Norm Architects kept things simple with a three-legged, stackable folding chair. The latter is also responsible for the exhibition design, with each of the pieces presented individually on mirrored podiums – a nod to notions of identity and personal image, as well as a tongue-in-cheek boast that the products are beautiful enough to be viewed from below.

The Cabinetmakers' Autumn Exhibition, or Snedkernes Efterårsudstilling (SE), is a non-commercial collective comprising 80-odd furniture manufacturers and designers. It aims to bring Danish furniture culture to the fore through collaborative projects staged annually, with exhibitions open to guest designers. And, as its latest venture proves, big things do come in small packages.
INFORMATION
'Petit' runs until 3 April 2016. For more information, visit The Cabinetmakers' Autumn Exhibition website
ADDRESS
Maison du Danemark
142 Avenue des Champs-Élysées
Paris
TELEPHONE
33.1 56 59 17 40