Pavilion of Art & Design London 2011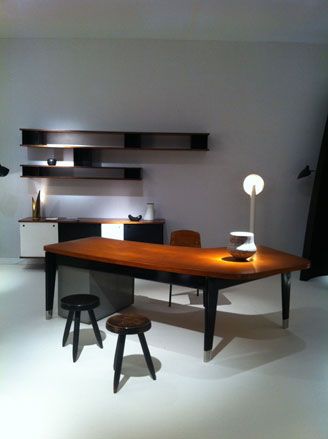 (Image credit: press)
Something old, something new, something raising lots of lovely funds for charity and a giant gorilla. The Pavilion of Art & Design London (opens in new tab) (aka PAD) ticks all the boxes: its line up for 2011 squeezing an impressive 60 galleries into its Berkeley Square marquee. By most accounts (from exhibitors and visitors alike) this year's show is the best yet.
Among the galleries representing the old - the safer bet from an investor's point of view in these still 'uncertain' times - highlights include one of Jean Prouvé's first masterpieces, the Fauteuil 'cite', as well as a number of pieces designed for a school in Villejuif, on show at Jousse Entreprise (opens in new tab). Fantastic examples of beautiful mid-century Scandinavian collectables came in the shape of Finn Juhl and Poul Kjaerholm furniture at Dansk Møbelkunst (opens in new tab), as well as a chest by Josef Frank and a Tapio Wirkkala candelabra at Modernity (opens in new tab) - which, incidentally is also showcasing a series of beautiful porcelain vessels from Sandra Davolio (the last she'll make for a while, apparently, as she's now busy designing entire walls for Tiffany's (opens in new tab) flagship in New York).
Contemporary design was shining at Priveekollektie (opens in new tab), with new pieces from Reinier Bosch, Rolf Sachs and Arik Levy; and at Cristina Grajales (opens in new tab) - where London was given its first audience with the amazing 'Porcupine Cabinet' by New York artist Sebastian Errazuriz, as well as an elegant new dining table and chairs from Nigel Coates. Wallpaper* favourite Bethan Laura Wood showed her Playtime collection at Nilafur (opens in new tab) while new works were commissioned especially by several galleries, so the globe-trotting design-art veterans who might have seen it all by the time they'd finished the rounds of Design Miami Art Basel (opens in new tab) in June were given plenty of fresh inspiration.
Francis Sultana, with Bodil Blain and Sojin Lee, commissioned the likes of Zaha Hadid, Barnaby Barford and Mattia Bonetti to customise child-sized versions of Vitra's Verner Panton chair to raise funds for the NSPCC (opens in new tab). And then the giant gorilla - well... It has become something of a Where's Wally style tradition now, to spot the giant gorilla at any contemporary art fair, and let's just say PAD London didn't disappoint. We were happy to note that it seemed quite at home amongst the plane tree trunks that punctuated the pavilion structure too.