Guggenheim curator Pablo Léon de la Barra on how he was influenced by Wallpaper*
Wallpaper's Latin America editor and Guggenheim curator Pablo Léon de la Barra on how the magazine helped him through his student years. De la Barra's recollections feature in the '25 Years of Wallpaper*' series, published in our October 2021, 25th anniversary issue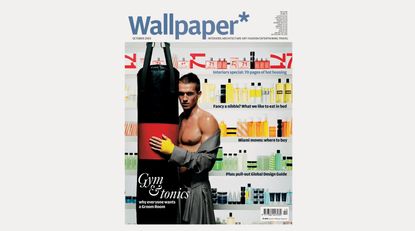 (Image credit: press)
I bought my first copy of Wallpaper in September 1997, aged 25, when I moved to London to do my master's degree in architecture. Coming from Mexico, from the beginning what struck me was the magazine's commitment to re-evaluating non-European and non-American modernities. It opened up a world where multiple modernities were presented in an unpatronising way and where horizontal dialogue between different geographies and cultures was possible. In this way, Wallpaper* was truly global.
Acapulco to Xilitla
In the early 2000s, I was back in the UK doing a PhD at the Architectural Association and had to find a way to support myself in super-expensive London. I wrote an email to Tyler Brûlé offering my services and knowledge and pitching some ideas and, amazingly, two weeks later I was on a plane back to Mexico to write my first story on modern architecture in Acapulco (W*40).
RELATED STORY
A few months later I was back writing a story on Edward James' surrealist concrete jungle in Xilitla in the jungles of Mexico (W*45). Many other stories followed: articles on the post-Barragán architecture scene of Guadalajara (W*62); on Mexico City's Colonia Roma upcoming art-and-design scene (W*46) – years before Roma the movie made it fashionable; on architect Agustín Hernández (W*64); the Wallpaper* City Guide to Mexico City; and many other contributions showcasing the best of Latin America's art, design and architecture.
Twenty-five years later, my love affair and admiration towards Wallpaper* (and its current editor) continue, as well as my eternal gratitude towards the magazine for helping me survive the economic hardship of those student years!
INFORMATION
A version of this article appears in the October 2021, 25th Anniversary Issue of Wallpaper* (W*270), on newsstands now and available to subscribers – 12 digital issues for $12/£12/€12 (opens in new tab).