What remains: a hardware store in Osaka lays bare the bolts of Japan's history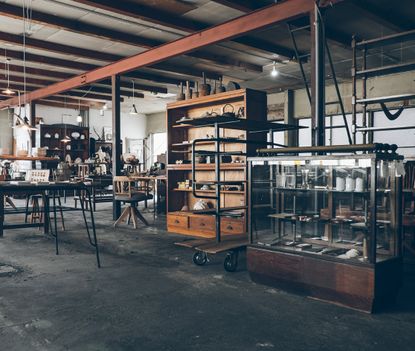 (Image credit: Hachi Anzai )
To call the location of vintage hardware shop Tsumugi Syoukai obscure would be an understatement. Large warehouses and small sub-suppliers to Osaka's heavy industry dominate the area, the only bright addition being a small nursery from where the sound of children singing can be heard from the large open windows of the shop's first floor. Proprietor and self-acclaimed hardware-otaku (that's Japanese for nerd) Masakatsu Sato doesn't seem to mind at all.

'I had a smaller shop, a bit more central, before I opened here this summer,' he says. 'But we are doing much more business now, even in this strange location.' It's clear why. The shop is housed in what used to be a warehouse, and the bare cement floor, the painted steel windows and the industrial feel fit perfectly with the merchandise. And what merchandise! Sato has been hoarding vintage hardware dead stock from around Japan for the last seven years, and the variety of hinges, locks, knobs and handles, mostly from when these kinds of fittings were still made in Japan in the late 1800s to mid-1900s, is staggering. Besides hardware, he also buys old household goods such as dustpans and cups, plus the odd piece of furniture. Japan is notorious for its readiness to tear down homes older than a generation, and Sato also likes to salvage doors and windows from old buildings when the opportunity presents itself.

The shop is divided into two floors, each around 300 sq m in size. On the ground floor, there is a fully equipped workshop where Sato restores old furniture and makes made-to-order pieces. Larger items, including a few vintage Japanese bicycles, are also displayed. Up an iron staircase is the main shop brimming with all the wonderful hardware.

Sato's love for the products is evident from the way he talks about the history of each individual piece. He shows me two padlocks. One carries the inscription 'made in occupied Japan', the other the Japanese word 'fukko', which means 'restoration'. They both tell of a different Japan all together. He also has a scrapbook where he keeps old packages and labels from his many years of collecting. The colours may be faded, but the graphic design from this golden era of Japanese manufacturing looks refreshingly different from anything you see at your local hardware store. Every piece has a story and Sato is fascinated by the creativity of design and what these humble hinges and brackets tell about Japanese manufacturing history. 'Of course, I am happy when someone buys something, but it also makes me a bit sad,' he says. I get the feeling he would rather not sell anything, and just keep expanding this seemingly never-ending collection of vintage Japanese hardware.
INFORMATION
Tsumugi Syoukai is open on Saturdays and Sundays or by prior appointment. For more information, visit the store's website
Photography: Hachi Anzai
Receive our daily digest of inspiration, escapism and design stories from around the world direct to your inbox