An insider's guide to highlights at Object at Miart 2018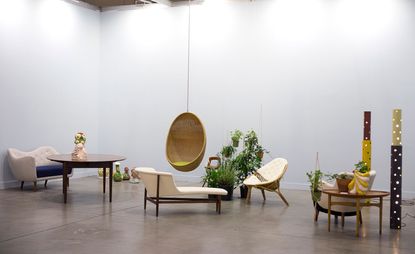 (Image credit: TBC)
Unbeknownst to much of the design world packing their bags for Milan next week, the city celebrates contemporary art the week before. At its heart is Miart, a much-loved art fair at the Fieramilano City, the charming former home of Salone. Design has an important place here too with a section devoted to collectable design galleries titled Object.

I have had the pleasure of curating Object this year. My mission has been to introduce some bold and brave young international galleries to contrast with and complement the Italian stalwarts. The result is a diverse and compelling showcase of contemporary collectable design that brings new life to the historic works on show. Here are five highlights.

Atelier Jespers (opens in new tab), Brussels
Jean-Francois Declercq is part-patron, part-conductor rather than a gallerist in the traditional sense; he describes Atelier Jespers as a cultural experiment more than a gallery. For its first outing at Miart, Declercq has explored contemporary reinterpretations of archetypal forms and techniques.

On show is a fascinating selection of eight contemporary designers with notable highlights including a tapestry woven from wool, rubber, acrylic and linen by Belgian KRJST studio and an architectural construction in sandstone building blocks by rising Belgian star Conrad Willems. A standout of the entire fair is a mesmerising carbon painting by French artist Pierre Bonnefille – a serene masterpiece that seems to vibrate.

Nero (opens in new tab), Arezzo
Michele Seppia's gallery has a cult following in the collectable design world, thanks to his ability to create – in his own words – 'narrative spaces' more than disparate displays of furniture and lighting. His curation combines historical design with contemporary commissioned pieces to create immersive environments, rather than exhibitions.
Stepping into Nero's stand this year is like stepping back in time to the Superstudio heyday. The plush Bazaar sofa by Superstudio for Giovannetti (1968) (pictured) is framed by work from two of Italy's most exciting younger designers: elements in concrete from Duccio Maria Gambi, and a stackable system in Purenit (a new composite material) by Marcello Pirovano. A luxe screen in marble, mirror and velvet by Seppia himself completes the scene.

Galleri Feldt (opens in new tab), Copenhagen
Feldt thrives on tension, which might seem like an odd statement considering the calm beauty of their debut stand here, in a soothing blue with a collection of plants. The gallery reframes important historical Danish design by juxtaposing it with contemporary international work.

Alongside standout pieces by Danish maestri Nanna Ditzel, Finn Juhl, and Tove and Edvard Kindt-Larsen, Feldt has introduced two powder-coated, perforated steel lights by Portuguese artist Leonor Antunes and a joyous collection of camp ceramics by German artist Nico Ihlein.

The result is an exercise in balance: exploring the tension between art and design, tradition and modernity, beauty and function, familiarity and surprise.

Matter of Stuff, (opens in new tab) London
Simona Auteri and Sofia Steffenoni tie together designers, craftsmen, manufacturers and architects with their design research gallery Matter of Stuff. The duo's objective is to explore and experiment with materials properties and applications. They combine traditional skills with contemporary techniques, fostering a group of diverse young designers to challenge and push what's possible today.

Their collective at Object comprises several intriguing pieces. The ethereal architectural lighting by Sabina Belfiore Lucovich and an elegant, graphic collection of seating by Lara Bohinc are striking highlights. Umut Yamac's kinetic bronze wall clock is quietly hypnotising and has drawn crowds, together with the seemingly impossible merging of aluminium and wood in Uufie's Echo Table.

Ammann Gallery (opens in new tab), Cologne
Gabrielle Ammann has nurtured many of the bigger names of collectable contemporary design so people look to her to discover the next generation. For her inaugural participation at Object she has brought with her a poetic combination of photography by Swiss architectural photographer Hélène Binet and Swiss artist Rolf Sachs, together with furniture by German artist Florian Borkenhagen and Italian collective Studio Nucleo.

Time is a common theme across the collection: whether in the monumental beauty of Binet's architectural images or the fleeting movement in Sachs' motion photography from the train window. Nucleo's monolithic Bronze Age Table references the dawn of civilisation, while the Wood Fossil pieces capture time, suspending wooden blocks and antique furniture in resin for eternity.
INFORMATION
Miart is on view until 15 April. For more information, visit the website (opens in new tab)
ADDRESS
Viale Lodovico Scarampo, 2
20149
Milano MI