Lifestyle lab: Nendo overhauls Siam Discovery department store in Bangkok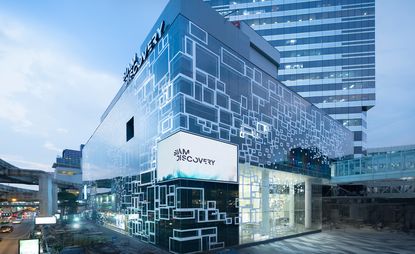 (Image credit: Nendo)
We've become accustomed to Japanese design studio Nendo delivering its quirky signature creative take on products and spaces; from a chocolate bar that creates different tastes via diverse textures, to a collective bird-apartment tree house and library-inspired pop-up for Starbucks.

The firm's largest and most ambitious project to date continues the studio's original approach with a revolutionary new story-telling interpretation of the traditional department store retail experience.

The two-year project has transformed Bangkok's 18-year-old Siam Discovery department store, now centred around a 'lifestyle laboratory' theme that eschews the traditional categorisation of products by brand. Instead, an unconventional open plan 'Exploratorium' offers a series of lifestyle experiences around 'laboratories' designed to create the sort of comforting, emotional experience lacking in e-commerce.

The renovation of the 40,000 sq m mall also addresses the building's unusually narrow frontage. Here, Nendo extended and combined numerous existing circular atriums dotted throughout the building to create an airy elongated 58m space.

Frame-shaped boxes with video monitors (202 of them), digital signage and displays of merchandise were installed along one side of the atrium, creating an easy-to-navigate visual directory for the whole store, while escalators were repositioned to run through the atrium, facilitating a smoother flow of visitors.

Meanwhile, the unconventional new double-skinned facade glass is decorated with a pattern that reflects the 'stacked box' atrium installation.

The designers reworked the interiors for all common use areas and most of the self-curated retail spaces, gradating floor and ceiling finishes to give the impression that different materials are stirred together.

'In this way, we made a point of creating an atmosphere where people can feel relaxed and feel free to approach the stores,' says Nendo founder Oki Sato.
They designed everything from a transparent rocking horse to a line of T-shirts featuring Hello Kitty targeted at a male audience. The project has been developed over the course of two years on a scale never before seen
Nendo designed motifs at 13 different locations around the sales floors. They include laboratory equipment such as beakers, flasks, and test-tubes, and diagrams of molecular structures, nucleotide DNA sequences, microscopes and amoeba, smoke and bubbles
The retail points designed by Nendo include spaces for electronics featuring displays that reference microscopes. Their lens-like forms provide surfaces for displaying merchandise illuminated by integrated lighting
INFORMATION
For more information, visit Nendo's website (opens in new tab)
You might also like
Wallpaper* Power 200: the world's top design names and influencers

It's back with a double helping of provocation and praise. We have plumped up this year's Power List to a meaty two-ton's worth of carefully measured rankings, an upscaled calibration of design achievement. As we strongly suspected, last year's Power 100 caused a considerable stir and provoked strong words. And, as last month's editor's letter made clear, even alarming threats of revenge and recrimination. So this year, unchastened, we thought we would do it all again, but double the dose. To mark our 200th issue, the power 100 has become 200. Or rather 100+100 (normal disservice will be resumed next year). And, in a self-congratulatory nod to our keen eye for talent and perhaps the propulsive effect we have had on nascent design careers, we have trawled the Wallpaper* archives, retraced our expert truffling and recovered the debut appearances of future Power Listers. (Look out for long-lost hair, unlined faces and eyes undimmed).

By Rosa Bertoli • Published
View More ▸