Well prepared: Nendo designs sleek emergency kit MINIM+AID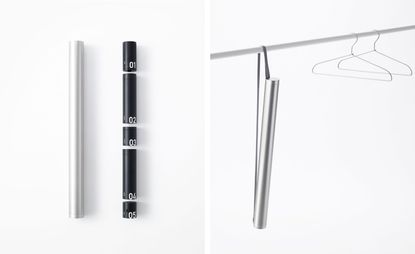 (Image credit: Kenichi Sonehara)
There are a dozen reasons as to why Nendo's founder Oki Sato has received the crown for Maison & Objet's designer of the Year: his massive retrospective of his work in Milan earlier this year and his ability to design 100 products per year are just two. The new MNIM +AID emergency preparedness kit is yet another.

Inspired by the tragedy of natural disasters that have occurred in his home country of Japan over the years, he has taken to create a compact kit that is extremely useful yet sophisticatedly designed with the Nendo-minimalist touch. Sticking to the bare necessities that are required during an earthquake, the set is made up of five pieces, all packed together in a 5cm wide tube.

Included in the collection is a radio which doubles as a charger, a raincoat, a lantern (that can be charged with the radio), drinking water and a plastic case that you can fill as you like – recommendations are a first aid kit and medicine. All of the items are neatly lined up in the sleek silver, white or black tube that can be carried like a backpack and masqueraded as an everyday object that you would never imagine could carry a life saving kit.

All the pieces exist in smart mini black tubes themselves, simply numbered 1-4 in large type, another clever touch for an emergency. Ultimately, Nendo has gone back to survival basics, but combined this with truly intelligent and hi-tech design-savviness.
INFORMATION
Photography: Kenichi Sonehara
You might also like
Wallpaper* Power 200: the world's top design names and influencers

It's back with a double helping of provocation and praise. We have plumped up this year's Power List to a meaty two-ton's worth of carefully measured rankings, an upscaled calibration of design achievement. As we strongly suspected, last year's Power 100 caused a considerable stir and provoked strong words. And, as last month's editor's letter made clear, even alarming threats of revenge and recrimination. So this year, unchastened, we thought we would do it all again, but double the dose. To mark our 200th issue, the power 100 has become 200. Or rather 100+100 (normal disservice will be resumed next year). And, in a self-congratulatory nod to our keen eye for talent and perhaps the propulsive effect we have had on nascent design careers, we have trawled the Wallpaper* archives, retraced our expert truffling and recovered the debut appearances of future Power Listers. (Look out for long-lost hair, unlined faces and eyes undimmed).

By Rosa Bertoli • Last updated
View More ▸