Nendo and Fritz Hansen design fully recycled plastic chair
Take an exclusive look at N02 Recycle, a moulded, stackable chair system made from upcycled household plastic, Polypropylene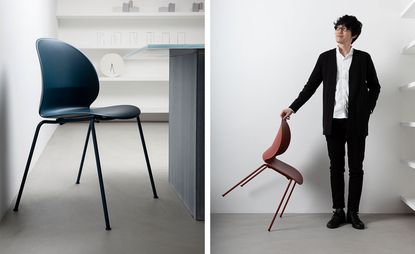 (Image credit: Nendo and Fritz Hansen. Courtesy, Fritz Hansen)
'20 years ago, a designer would only think about the head of the product: How do we produce it? How can we sell it, how will people use it?' declares Nendo founder, designer Oki Sato, swivelling slightly on the wheels of his latest creation for Danish furniture brand Fritz Hansen. 'I think more and more designers now look at the tail of the product, how will it be thrown away and what's going to happen after that.'

Sat in his Milan showroom on a grey Sunday in September, the Scandinavian-inspired colour palette of the scattered flock of chairs is the only source of pigment in the otherwise stark white shopfront space. The chair in question is N02 Recycle, both Sato and the brand's first foray into recycled materials: a moulded, stackable system made from recycled household plastic, Polypropylene, sourced nearby in central Europe.

Polypropylene is the kind of plastic we all know intimately. Food packaging, water bottle lids, straws: any type of household plastic waste labelled with the recycle code '5'. To transform your discarded tomato packaging into Sato and Fritz Hansen's new chair, the recycled materials are ground up into pellets and melted into their new roles, a process that can be repeated, in theory, ad infinitum. Uniting, as Sato describes, the product's head and tail.

Working with Polypropylene, though, presented a number of challenges: the recycled material by nature is slightly more rigid than the plastic typically used for a stacking chair, so allowing for flexibility and comfort was key. 'Controlling the thicknesses within the shell was the biggest challenge,' explains Sato of the chair's design, which tapers from a relatively deep base outwards like a curved flower petal, preserving movement and bounce while ensuring structural integrity.
Inspiration for the form came from 'a sheet of paper folded in the middle,' he says. 'We noticed that it creates a nice form that also has lumbar support. It does not touch your body too much and it does not constrain your movements too much, either. When you're sitting down people do not necessarily sit like this,' Sato freezes, back-rigid with his feet flat on the floor, 'they would go like this,' he explains, relaxing into a slouch, elbow draped over the backrest, 'it had to adapt to all these different ways of sitting.'

The N02 Recycle is being launched in three different formats: four-legged, sledge and swivel bases. The sustainable mindset also extends beyond plastic: the chromed steel sledge base is 50 per cent recycled, while the polished aluminium swivel stands at 95 per cent.

'I think, in general, we need to have a better understanding of materials,' explains Sato when asked whether the material research that went into this project will have a spill-over into his practice at large. 'The way we select materials, the way we treat materials. This know-how will be adapted to our future projects.'
INFORMATION
Receive our daily digest of inspiration, escapism and design stories from around the world direct to your inbox
Laura May Todd is a Canadian-born, Milan-based journalist covering design, architecture and style. In addition to the Italian dispatches she writes for Wallpaper*, she regularly contributes to a range of international publications, including T: The New York Times Style Magazine, Architectural Digest, Elle Decor, Azure and Sight Unseen. Prior to her work as a journalist, she was assistant editor at London-based publishing house Phaidon Press.